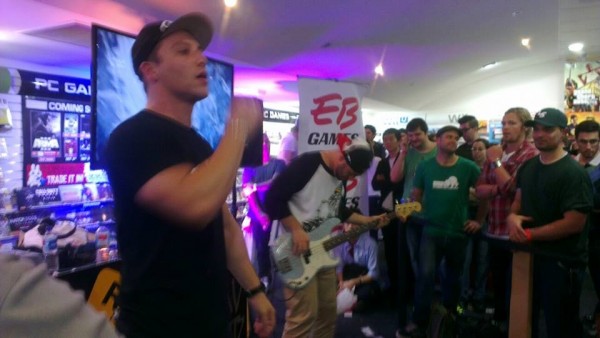 Last night, Grand Theft Auto V boomed into the market. Hosted by EB Games at World Square Sydney, hundreds of gamers came out in the cold rain to be one of the first Australians to grab a copy of the game they have been waiting years for, myself included.
A few hours before the event, I was chatting to the store manager of World Square EB Games store, where the launch was held, and he was not happy. He told me the event was to be held outside in the courtyard, however, the rain was not making it easy for anyone. When I returned for the start of the event, they had moved everything to inside the store, which created a crowded, yet hyped atmosphere as the 12th hour drew nigh.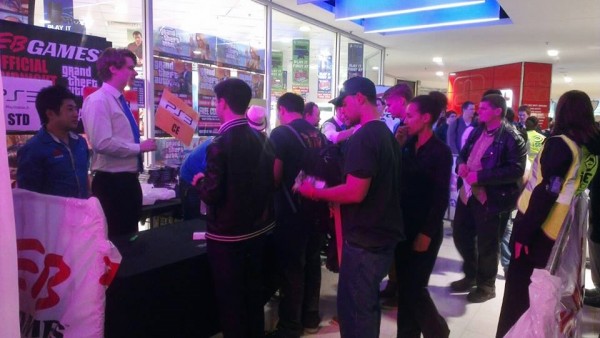 The launch party started easy, everyone there was able to score a free burrito, courtesy of Guzman Y Gomez and over the course of the night, small Rockstar Games Merchandise freebies where given out, like t-shirts and posters. There was also an opportunity to play some games on the PS3, Xbox and WiiU which was pretty fun.
We were entertained by DJs and rappers as we waited, the names were Alison Wonderland, Leah Mencel + Lee Monro and The Havknotz. There were contests that got the crowd involved, such as the GTV V cosplay and the Burrito Eating Contest. The only girl in the food feast showed everyone who was boss when she smashed the contest. Winners to these contests got limited edition merchandise like golf clubs and sleeping bags.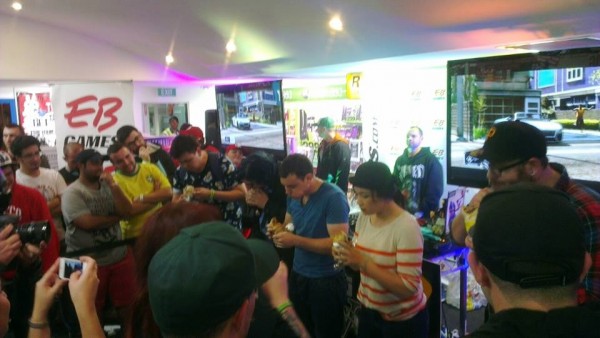 When midnight was around the corner, so was the massive line of gamers ready for GTA V, everyone was their set and run home with it. We even chanted a count down. Thanks to the organised work of the EB staff, the line moved quickly and the event was over almost as quickly as it started.
Even though I can imagine that it was a nightmare for the media co-ordinatoter, I congratulate Debra McGrath and the rest of the EB Games team on pulling through as all in all, it was a good night despite the last minute changes to the event.