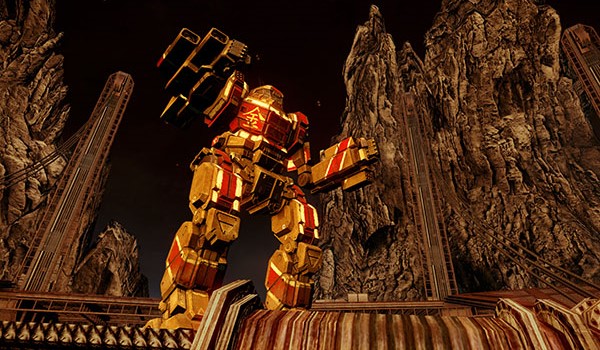 Piranha Games and Infinite Game Publishing announced today that the free mech combat game MechWarrior Online now features 12 vs. 12 matches, a major aspect of the official 1.0 launch later this season. A set of two trailers have been released for the new mode and a new mech, Golden Boy, that are viewable below.
"Players now have a deep bench of options for a variety of strategies, more creative attacks and defense schemes and can alter their combat strategies in greater variety for each environment," said Bryan Ekman, creative director at Piranha Games. "This is true MechWarrior combat."

The latest enhancements to the game also include double XP for the first win of the day, giving pilots a much welcome boost, and a hostile new map called Terra Therma, set on an unstable moon with violent tectonic activity with a war for its rich natural resources on the surface. A new hero mech Golden Boy is added to the arsenal, sporting a 30% C-bill bonus, three SRM-6's, two SRM-4's and four medium pulse lasers.
Fans can catch Youtubers TotalBiscuit and Angry Joe battle it out to test MechWarrior Online's 24-player action. Tune in to http://www.youtube.com/totalbiscuit or http://www.youtube.com/angryjoe at 1pm PT.
MechWarrior Online is set to exit its open beta phase and launch on September 17 and you can sign up to play for free on the PC right here.
12 v 12
Golden Boy Hero Mech