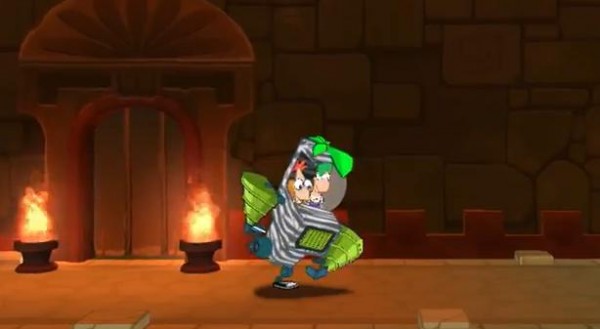 It wouldn't be E3 week without trailers from all companies involved, and Majesco are ready to show a clip from their new title, Phineas and Ferb: Quest for Cool Stuff. Now, we seen this little romp revealed a little while ago, and is scheduled to hit the Wii U, Nintendo Wii, 3DS, and DS this August.
Here are some more details however to refresh your minds on why our heroes are after the "Cool Stuff":
Watch Major Monogram showcase the latest in automotive technology as he features the boys' newest ride, the A.T.T. (All-Terrain Transformatron). The upgradeable, ultra-cool amphibious A.T.T. is equipped with wall-scaling pincers, indestructible drills, and customizable colors. It's a fun, out-of-this-world treasure-hunting adventure as the inventive stepbrothers enjoy their last week of summer. Meanwhile, Perry the Platypus, aka crime-fighting Agent P, isn't fooled by competitors like Dr. Doofenshmirtz who plans on unleashing his evil horde of robot–inators to get rid of cool stuff in the Tri-State Area.
Sounds like an entertaining plot. You can check out the clip below that features some vehicles and other cartoon mayhem.