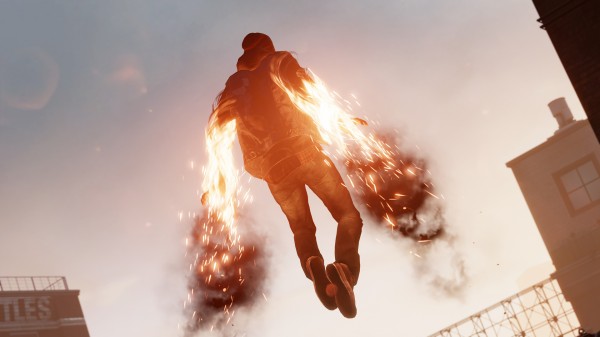 Along with the E3 2013 trailer, Sony have uploaded gameplay vision for Sucker Punch's PlayStation 4 launch title inFAMOUS: Second Son. This is the first time we get to see proper in-game footage.The video can be viewed embedded at the bottom of this article.
It demonstrates Delsin's myriad of smoke-based powers, the enemies he will face, as well as the level of destructibility present. He can phase in multiple directions and through certain objects, shoot fireball-like projectiles from his hands (the stance and animation is very similar to Cole's in previous titles) and summon a chain that he can utilise as a melee weapon. Be sure to wait until the end to witness an extremely powerful super move. Oh, and D.U.P. (Department of United Protection) soldiers also exhibit powers of their own – "leaping", as the hero refers to it – where they propel themselves away from a manifested column of rock, even being able to create rocky platforms to catch themselves.
The game is looking impressive. Stay tuned to Capsule Computers for all future inFAMOUS: Second Son and E3 2013 news updates.