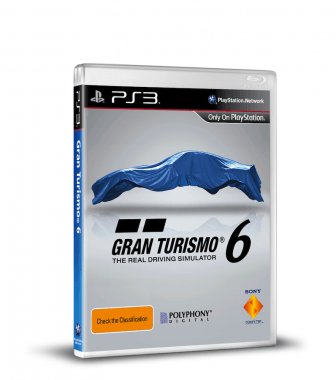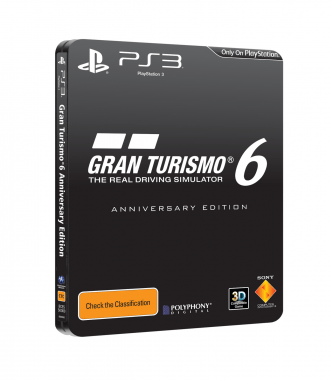 Select Australian retailers are now taking pre-orders for Polyphony Digital's Gran Turismo 6, exclusive to the Sony PlayStation 3. Set for a Christmas 2013 launch, there will be two editions available: the Standard and the Anniversary Edition.
The Standard Edition is priced at AUD$99.95, whilst the Anniversary Edition costs AUD$114.95 and comes in a special steelbook with one million in-game credits, 20 additional cars with livery and performance enhancement, as well as your own customised paint chips, race suit, helmet, avatar and a copy of Apex II. Those who pre-order – regardless of their choice – will also benefit from in-game credits and/or a selection of exclusive cars that could include:
Alfa Romeo TZ3 Stradale (2011)
Alpine  A110 1600S (1968)
Aston Martin V12 Vantage (2010)
Audi R8 LMS ultra (Audi Sport Team Phoenix) #3 (2012)
BMW Z4 GT3 (2011)
Chevrolet Corvette Stingray (C7) (2014)
Ford Focus ST (2013)
Ford Mustang Shelby GT500 (2013)
Honda weider HSV-010 (SUPER GT) (2011)
KTM X-BOW R
Lamborghini Aventador LP 700-4 (2011)
Lexus IS F Racing Concept (2008)
Lotus Europa (type54) (1968)
Mercedes-Benz SLS AMG GT3 (2011)
Nissan GT-R NISMO GT3 N24 Schulze Motorsport (2013)
Renault Sport Megane Trophy V6 Race Car (2011)
SRT Viper GTS (2013)
Tesla Motors Model S Signature Performance (2013)
TRD 86 Racing (2008)
Volkswagen Scirocco GT24 Race Car (2008)
While you rev-heads are here, you may want to check out 45 minutes of Gran Turismo 6 footage here.