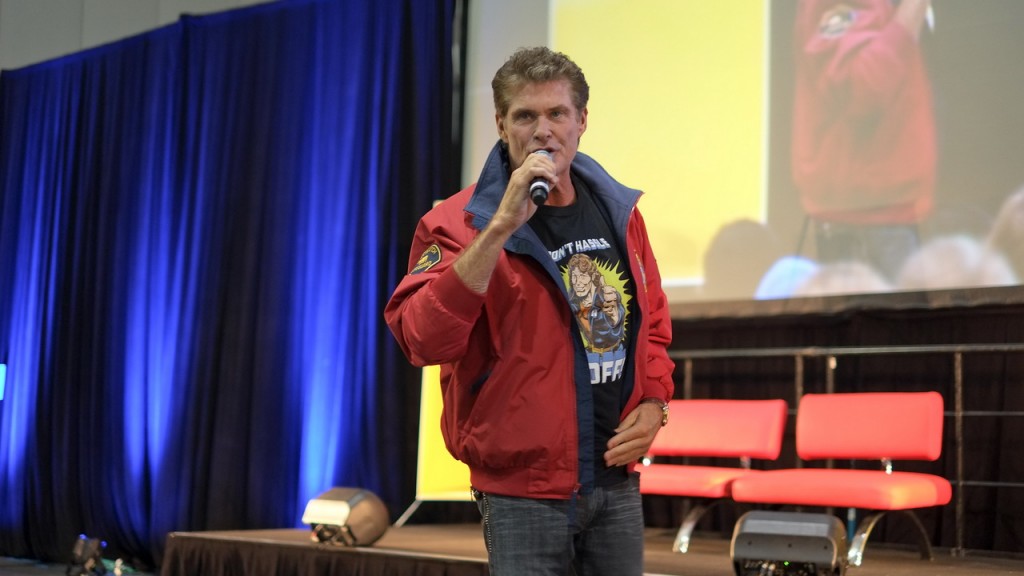 The Hoff is an interesting character. I am unsure half the time whether he is completely genuine, or a chauvinistic, self-promoter. Honestly, I think after today, I have come to understand that he is a man that loves the entertainment industry and feels blessed to be a part of it, and that means a lot.
At the Supanova Pop Culture Expo 2013, Hasselhoff came out singing, before expressing his love for Australia and equating his point of view in life to ours. Obviously we have Bondi Beach too – Hoff did say "if it were nice outside, nobody would be here. I'd be at the beach!". Thanks Hoff… he was just kidding (I hope?). Another thing I learned about Hoff is that he is very candid. He at one point stated;
My life has been a series of ups and downs. The only person that knocks me down is me. And I do a pretty good job of that. When you wake up in a hospital in Berlin, and have no idea why, you know you're in trouble!
Hoff showed his good sense of humour, although some of his jokes/stories almost crossed the PG/M rated line. He felt it important to get "the obvious" out of the way early;
Did I sleep with Pamela Anderson? …The answer is, yes! However, I am a chronic liar! No, we didn't and we're great friends. When everyone was being sexist and starting those rumours, Pamela and I were laughing all the way to the bank.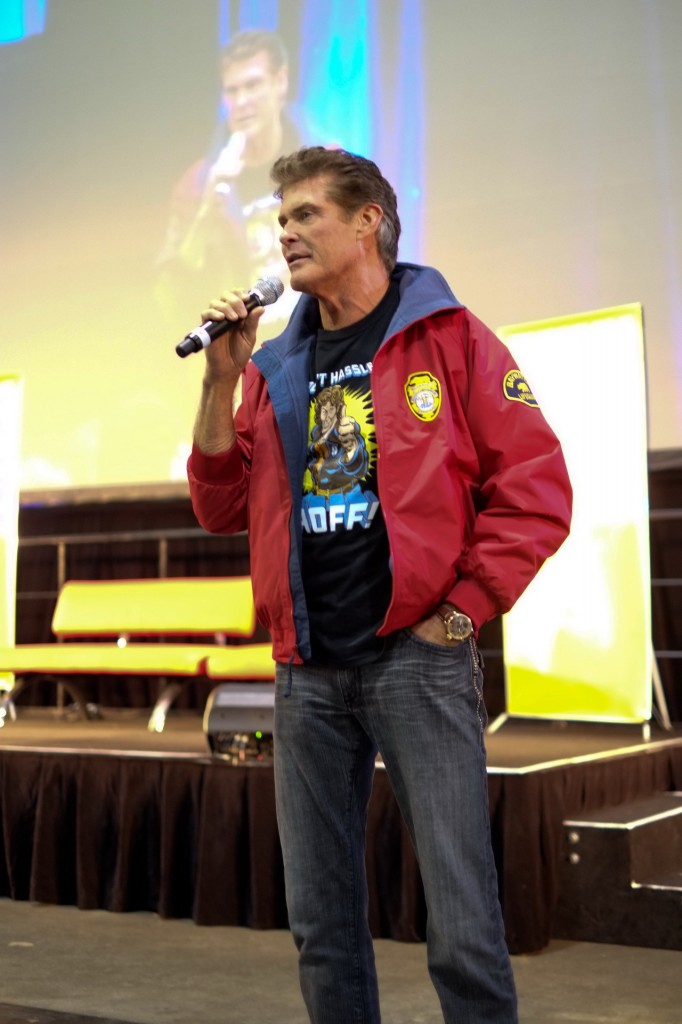 Hoff gave us a rundown of his upcoming projects (some were inquired about, others he felt we needed to know). A show called 'Hoff Presents: We love the 80s and 90s' will be touring soon, showcasing classic rock bands from those eras. He will also be opening up a resort/restaurant in Bali called 'Hoff's Hideaway'. And, we received an update on the planned Baywatch musical, which is going to be in the West End and is completely financed. There's even a Knight Rider film in early pre-production that he thinks is being turned into a comedy. "Go figure!".
He also has a film coming up that he is producing called 'Killing Hasselhoff'. It's about some college guys that have a death pool. One takes a job to kill the star for money. Hoff explains that he would just "triple whatever he was paid with royalties from Baywatch". Somebody in attendance inquired about possible outtakes during the filming of Baywatch, possibly of the cast tripping or falling over whilst running…yes, that specific. Hoff responded with "no, we weren't drunk!"
He did explain the story behind the slow motion used in the show. As most would know, the show was cancelled before it even really hit the ground, but Hoff proceeded to procure the rights to the show for just a single dollar! After putting his house on hoc, Hoff and the producers self-financed the show and brought it back. They developed the first new episode, but were 8 minutes short. So, a scantily clad lady caught their attention (naturally) and they had the bright idea of filming her and putting it in slow motion. They added her into the show simply to fill the time gap. So it wasn't a stylistic choice, but one borne of necessity/desperation as they had run out of money to shoot something entirely new and substantial. The effect was an easy solution, so it was then placed in the opening credits.
The best part of the Q&A session for me was when the Hoff started bagging out his current manager, who surely must've been around somewhere nearby..;
Never go to an agent. I got chewed out by my manager today! He said to "stop writing everybody back, that's my job!" He's taking 15% just to manage my emails, and I'm on my email all the time anyway!
Oh, and his response to a lady wearing a tiger onesie – as you do at any nerdy convention – was brilliant;
Why are you dressed like a tiger? Are you on medication? Can I have some? No seriously, I don't drink anymore, I only do drugs, can I have some?
Oh, Hoff! Check out our gallery below of pics we took from the panel. He got pretty up close and personal…thank God he didn't start serenading us!