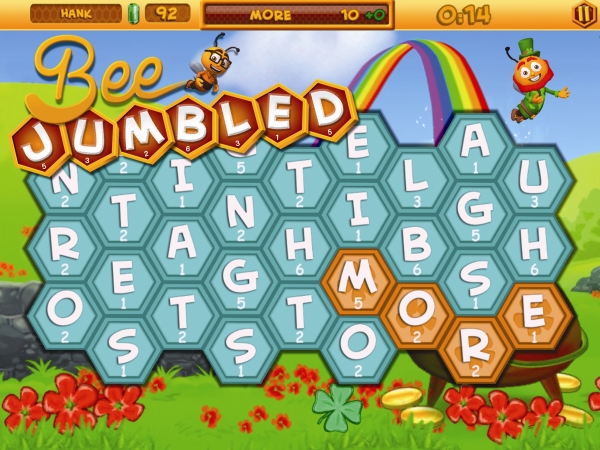 2K Games has announced that Beejumbled, the latest mobile game from Cat Daddy Games (makers of the Carnival Games titles and It's My Circus), will be coming to the App Store, Google Play, and Amazon AppStore worldwide on June 13, 2013.
Beejumbled is a word search game that takes place in a charming world of bees. The game will challenge players of all ages to build the best words they can to win. You will also have the option of playing through a single-player campaign, fast-paced word games against friends, or in tournaments with hundreds of other players for ultimate glory.
Key features of Beejumbled include:
Competing in tournaments against one of hundreds of players from around the globe in real-time;
Enjoying a hexagon board with hundreds of word combinations, and more than 80 achievements to unlock;
Picking from an assortment of helpers, including 'Double Word Score,' 'Common Letter Bonus' and 'Super Letter' to provide bonuses and assist in overcoming difficult situations;
Customizing the gaming experience with over 25 different bee characters and backgrounds to unlock and choose from; including "Homer," the baseball bee (who offers an additional +25 points for any baseball themed words discovered), to "Ro-Bee," the robot bee (who adds an additional +3 points to any three letter words);
Playing independently in Single Player mode, or against friends with Pass & Play, Asynchronous multiplayer via Game Center & Facebook, and Tournament modes.
For more information be sure to check out the game when it launches June 13!