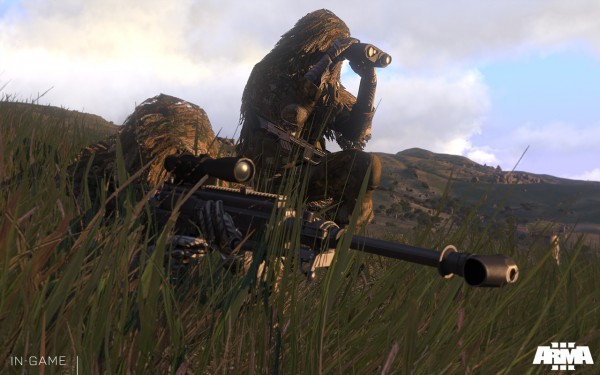 Arma 3 players will be interested in finding that they will soon have access to a new Sniper package in the military simulator from Bohemia Interactive. This new content update is set just before the big gaming event in LA, E3 2013.
This new content update allows players to use two high powered precision sniping rifles, as well as allowing players to don the "Wookie" ghillie suits. These rifles are used for different purposes, as detailed in the quote below.
The first rifle, the Gepard GM6 Lynx, is a semi-automatic anti-materiel rifle using 12.7×108 mm ammo. Its purpose is to stop or disable targets such as light armoured vehicles, armoured rifle troops, light shelters and helicopters from 600–800 m range.

The second weapon, the M320R Long Range Rifle, is a .408 calibre sniper rifle, valued for its accuracy up to 2000 meters
Players looking for a full list of changes should check out the Changelog for info. Be sure to pre-order the full game from Steam or the Official Site to ensure access to the Alpha and Beta versions of the game.