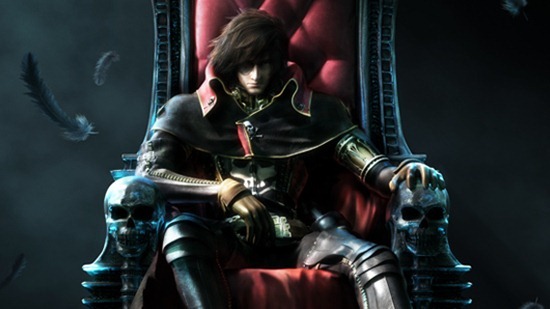 More details have come to light on the greatly anticipated Space Pirate Captain Harlock film. The latest piece of information is that the film's theme will be performed by popular J-Rock band ONE OK ROCK.
ONE OK ROCK (pronounced 'One Ock Rock', in reference to the Japanese pronunciation of One O'Clock) will contribute their hit single 'Be the Light' to the Space Pirate Captain Harlock film as a theme. The song's music video can be seen below. ONE OK ROCK previously contributed their song 'The Beginning' to the Rurouni Kenshin live-action film last year.
Space Pirate Captain Harlock is based upon Leiji Matsumoto's original revolutionary 1977 manga of the same name. The story follows titular Captain Harlock as he leads a rebellion against the corrupt government of Earth aboard his trusty space battleship known as the Arcadia.
Captain Harlock has appeared in various media across his expansive history including the legendary anime film Arcadia of my Youth. The character first debuted back in 1953 in The Adventures of a Honeybee. This year marks 60 years since the character's creation.
You can check out ONE OK ROCK's theme song for Space Pirate Captain Harlock below.