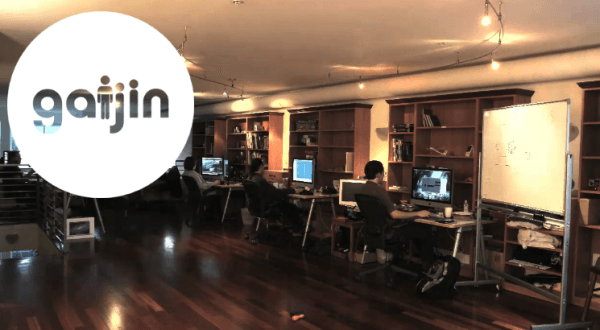 Gaijin Games are best known for their BIT.TRIP games, which have been around since BIT.TRIP Beat first came out back in 2009. They've released nearly a dozen games on virtually every platform from iOS to modern platforms to PC and beyond. Their newest game, BIT.TRIP Presents Runner2: Future Legend of Rhythm Alien, garnered critical acclaim not only from us here at Capsule Computers, but from critics across the world.
---
CC: How did you come up with the idea to make a rhythm-based runner game to begin with?
AN: In the original BIT.TRIP series, were were telling our story through arcade action and how it pairs with music. For the fourth game in the series, we knew that we wanted CommanderVideo running through the world, and because of the theme of the series, it had to be rhythm-based. The best way that we came up with to achieve this mashup was to make an auto-running platformer.
CC: Could we be seeing some DLC adventures for the Captain and friends?
AN: We definitely have some DLC up our sleeves, but aren't ready to announce what it is just yet. Also, while we do have a character in Runner2 called CaptainVideo, the main protagonist of the BIT.TRIP series is CommanderVideo. The only reason we added CaptainVideo to Runner2 was as a joke, since people have a hard time keeping track of the "Commander" part of our main character's name.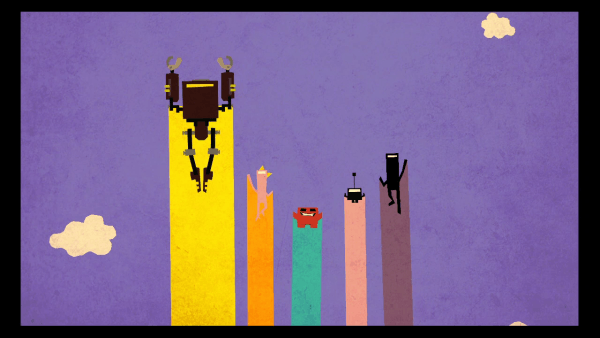 CC: What inspired the extra characters?
AN: A whole lot of being very silly in the office. It's kinda how we make all our decisions at Gaijin.
CC: How did you come up with the idea for the retro levels?
AN: Well, the retro levels first made their appearance in BIT.TRIP RUNNER when we had a Pitfall-inspired bonus level theme. In Runner2, we wanted to keep the retro levels as bonuses, but didn't want to go as far into the retro, so we settled on the Famicom-era theme instead. They help break up the action and give the player something new to look at and do
CC:  Did you have any ideas for other game modes?
AN: Sure. But at a certain point, you have to decide what makes it into a game and what gets cut. We felt that what we ended up with was just the right amount of variation of modes.
CC: Will the Captain get any more enemies or moves in the future?
AN: Actually, he's a Commander, not a Captain. Check out the end of this public service announcement we did a few years ago. And we probably haven't seen the end of CommanderVideo. We're not sure about what kinds of enemies or moves we'll see him do in the future, but whatever it is, it'll be amazing!
CC:  Can we expect more cross-overs (like Meatboy) in the future?
AN: Maybe…
CC: If you were to implement voice acting for the characters, who would play each character?
AN:
CommanderVideo – Hugh Grant
CommandgirlVideo – Phyllis Diller
Unkle Dill – Rodney Dangerfield
Reverse Merman – Gilbert Godfried
Whetfahrt Cheesebörger – Marvin the Martian
Pitazo – Bobcat Goldthwait
CaptainVideo – Bruce Willis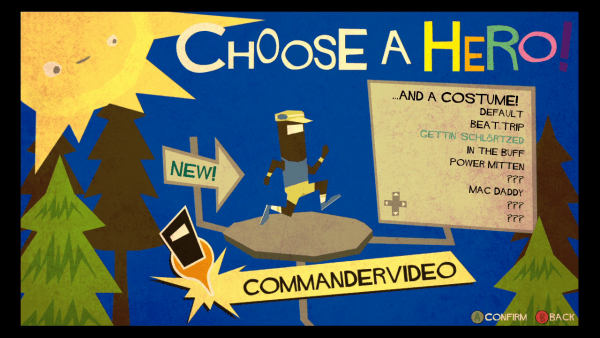 CC: Is there anything you would do differently if you were given clearance to rebuild the game?
AN: We might cut a few levels here and there, since there are places in the game where it can get a bit samey. Also, we'd make it a little more clear how the Key Palaces work or just cut them from the game.
CC: What is your favorite thing about Runner2?  The series as a whole?
AN: I think my favorite thing is playing in Hard Mode and acing a level. When it all comes together, it feels so good. My favorite thing about the series as a whole is how we were able to tell a meaningful story in a very abstract way and still have people "get it". We have had numerous people tell us about how they wept at the end of BIT.TRIP FLUX because the journey with CommanderVideo was over, and it ended so perfectly. That is my favorite thing. Knowing that we've managed to touch people.
CC: What can we look forward to in Runner3?
AN: Well, if we decide to make Runner3, which we currently have no plans to do, I'm sure you'll be able to look forward to a level of wackiness that is so far unprecedented in video games.
CC: What gave you the idea for the cannon sequence for a perfect run?
AN: We wanted a tiny little microgame at the end which would be a way for people to enhance their scores and get even better than a perfect. Targets and bullseyes and human cannons are fun, so it really was a no-brainer.
CC: How did you slip the character design of the reverse merman past the ratings boards? 🙂
AN: We didn't. We reported all content to the ratings boards as we are obliged to do, and they rated the game appropriately. In fact, the Australian rating board was a little late in getting the rating to us, which is part of the reason that the game was delayed in coming to Australia.
---
That concludes our interview with Alex of Gaijin Games. We very much appreciate the time he took to help us put this interview together! We especially appreciate their forgiveness and good humor for getting the Commander and Captain out of sorts. (Oops!).
If you liked what you read here, you should be sure to head over to Gaijin's official page and check out all of their stuff!