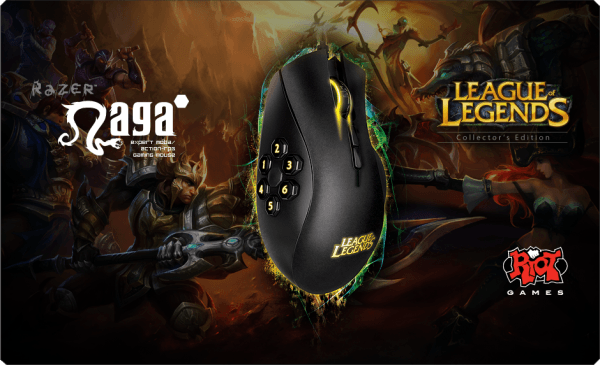 Razer has released a line of League of Legends branded peripherals.
The League of Legends Razer Naga Hex is the flagship product, featuring a black body and yellow LED lighting. The mouse has six thumb buttons that provide quick access to League of Legends skills buttons, a 5600 DPI laser sensor, and special switches that can register 250 clicks a minute.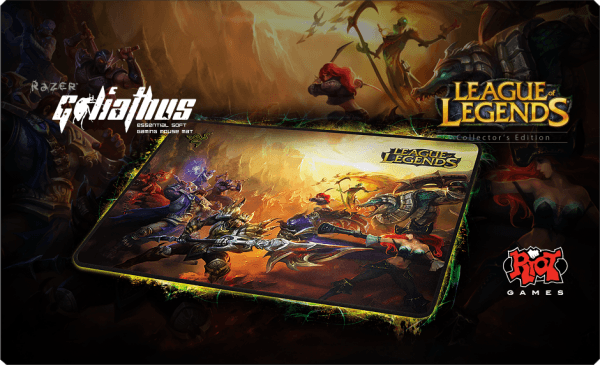 The League of Legends Razer Goliathus is a large cloth mouse pad featuring League of Legends artwork and a slick cloth weave allowing for quick movements across the pad. It is ideal for all types of mouse sensors, including the notoriously fussy laser sensors.
The League of Legends Razer Sphex is a desktop skin that uses a reusable adhesive to stick to the desk, providing one of the thinnest mousing surfaces on the market. The surface is designed for high accuracy using both optical and laser sensors.
As a bonus, the League of Legends Razer Naga Hex and the League of Legends Razer Goliathus come with a code that will unlock Tryndamere, The Barbarian King in League of Legends. This powerful champion has no ability costs and can plow through enemies with his vicious melee abilities.  **PLEASE NOT Asia Pacific Versions will not have this unlock code **