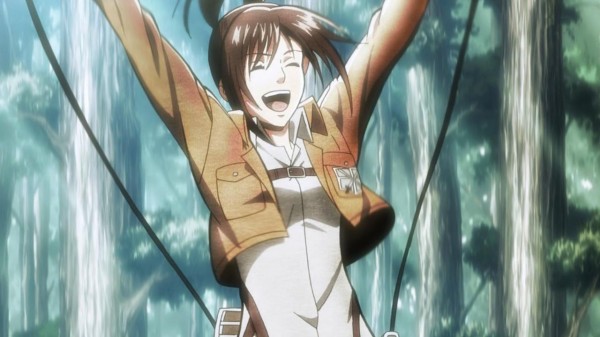 After a mild hiatus we're back again with another Anime Girl of the Week where we take one female character from a currently airing anime, usually not the main heroine, and give them some time in the spotlight by going over their personality and history as well as a number of images featuring the character ranging from official artwork to fan art.
This week we're focusing on a character from Attack on Titan, also known as Shingeki no Kyojin, which is a very popular series and probably the breakout show of this Spring 2013 season. In Attack on Titan humans have been living behind a series of large walls as long as anyone can remember. The reason for this is due to the threat of monstrous Titans which roam the outside of the walls. These titans are nigh-invincible and are quick to regenerate any damage they receive and their voracious appetite to hunt down and eat any human near them have forced humans to remain caged from the world.
Now the girl we're focusing on this week may be quite popular, however few may know much about the character besides her love for potatoes and food, which is why she is commonly called Potato Girl. Her real name is Sasha Braus and it is worth noting that some of the information below MAY CONTAIN SPOILERS as much of her background hasn't been discussed in the anime yet and has only been expanded in the original manga.
Sasha Braus grew up in a small village that is situated in a forest covered mountain region within Wall Rose. Dauper Village as it was called relied on hunting for their food and refused to grow crops, however thanks to the fall of Wall Maria at the beginning of the series, refugees forced the residents of Dauper into a famine that nearly wiped out the village. This is due to the fact that their forests became over-hunted and their initial refusal to grow crops.
Growing up in this environment of near starvation has caused Sasha to become a compulsive food hoarder who steals food if possible and her lack of common sense often causes her to get into trouble when she is eating at inappropriate times. She left her village to join the military after arguing with her father and eventually graduated at the 9th position in the 104th trainee squad to enter the scouting legion.
Because of her country upbringing, she always talks very politely with others and uses formal words to discuss things in an effort to hide her country origin. Despite this those around her see her as a friendly girl who is simply lacking in common sense and adores food a bit too much. Since her personality is rather straightforward she is often a comic relief  character, though in combat she is actually quite skilled.
As a fighter, Sasha has been described as one of the better trainees with the 3D Maneuver Gear with a great sense of balance and lightning quick reflexes. It is also shown that her time spent hunting in the woods has gifted her with the ability to use a bow and arrow skillfully and identify animals in the wild and even Titans.
Currently at the time of this writing, Sasha Braus is still alive in the manga series as she has rejoined her father and members of the village as they escaped a Titan onslaught. Attack on Titan has been licensed in the West by FUNimation and is currently being streamed in Japanese with English subtitles both on FUNimation's website and Crunchyroll.
DISCLAIMER: None of the art presented is the property of myself or Capsule Computers. All characters and series are TM and © their respective creators and corporate owners. All art is the creative property of their respective artists. Any artists who wish to have their work removed from this article may contact us and appropriate action will be immediately taken.