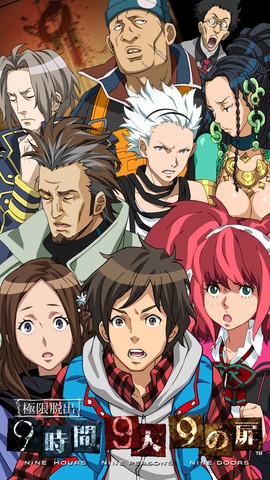 Back when it was released in 2010 on the Nintendo DS, 999: Nine Hours, Nine Persons, Nine Doors was one of the must own games for the system and a couple of years later when it's sequel, Zero Escape: Virtue's Last Reward was released, it proved to be a must own on the 3DS and Vita.
Today the Japanese developer of the game Spike-Chunsoft chose to release an iOS version of the game for Japan but there is a catch here. The iOS version of 999 has removed all aspects of the game's puzzle sequences. Instead the game focuses only on the visual novel storyline and decisions you make throughout the game to reach alternate endings.
The game has also been given some revamped graphics, upgraded music and a flowchart similar to Virtue's Last Reward, but half of the enjoyment from the game were the puzzles. It is currently unknown if this iOS port will be brought onto the English iTunes store by Aksys Games but if it is, be prepared for a watered down experience.