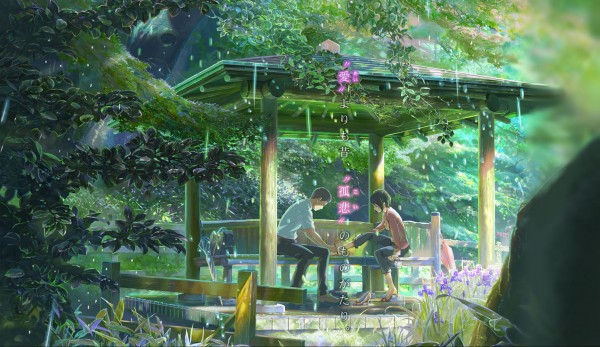 World premiered! The Garden of Words is Makoto Shinkai's latest work in collaboration with CoMix Wave films. This film is about "love" but not the love you and I believe in, it's more of an out-dated and somewhat twisted love, based on the traditional Japanese word of "love" written as "Koi" which roughly translates to "lonely sadness", kind of daunting in a way. Over time the Japanese word was modernized and changed to become the word "love" (ai) as we see it now. The Garden of Words is set in modern times yet still uses the old, meaning of the word.
CoMix Wave describes the story:
"We have met, for each of us to walk forward.

Takao, who is training to become a shoemaker, skipped school and is sketching shoes in a Japanese-style garden. He meets a mysterious woman, Yukino, who is older than him. Then, without arranging the times, the two start to see each other again and again, but only on rainy days. They deepen their relationship and open up to each other. But the end of the rainy season soon approaches …"
Mr. Shinkai started in the industry creating video clips for graphic design and games at "Falcom". His first ever anime title was self animated, directed and produced which was a five-minute short and called She and Her Cat, this was in 1999. It received grand prize in the 2000 DoGA CG Animation competition. He then went on to quit his job and began working on Voices of a Distant Star, a 25 minute film which was, once again, done entirely by himself, Shinkai and his fiancee also voiced the main characters of the film. He went on from there doing The Place Promised in Our Early Days in 2004, 5 Centimetres per Second in 2007 and Children Who Chase Lost Voices in 2011. So even if you didn't know Makoto Shinkai before reading this you can see this movie isn't going to disappoint.
Information on the premiere is as follows:
It will be held at the Pacific Fair BCC Event Cinemas, Gold Coast, Queensland, Australia on Sunday the 28th of April, 2013 at 4:00pm. For tickets and further info head to the Gold Coast Film Festival Website.
The Garden of Words will also be receiving a manga adaptation done by Midori Motohashi in Kodancha's Monthly Afternoon magazine from the June issue to be published in April.
The Garden of Words will open in Japanese theaters on the 31st of may this year.
Now head down to the featured video section below to check out the trailer, don't forget to scroll a little past that into our comments section and drop us a line.