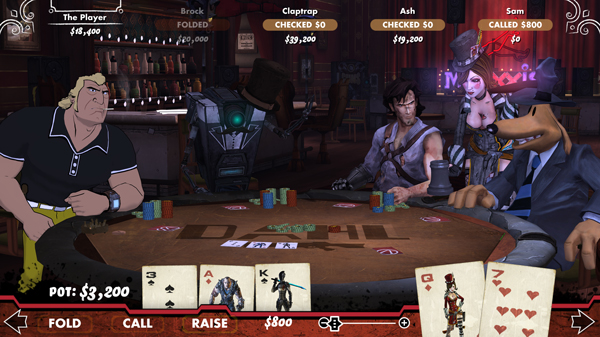 After only being announced a scant few weeks ago, Telltale Games' Poker Night 2 has reached the XBLA today, with Steam and PSN on the way soon. To celebrate the occasion, Telltale Games has released a trailer showing off a bit more of the game and the bonuses players can earn for other games in their library.
A sequel to the original Poker Night at the Inventory, Poker Night 2 features 4 all new opponents to face off against in Texas Hold'em and Omaha style poker. But Brock, Claptrap, Ash, and Sam aren't the only characters running around as there will be plenty of cameos and laughs, especially with GLaDOS acting as overseer to the table.
Players can view the launch trailer embedded below and find Telltale Games' Poker Night 2 available for 800 MS Points ($10) on XBLA HERE, with the Steam version coming this Friday (April 26th), then to the PSN on April 30th for North America. Unfortunately, a release date isn't available quite yet for the Europe PSN, but should come in time, as well as information on an iOS release.