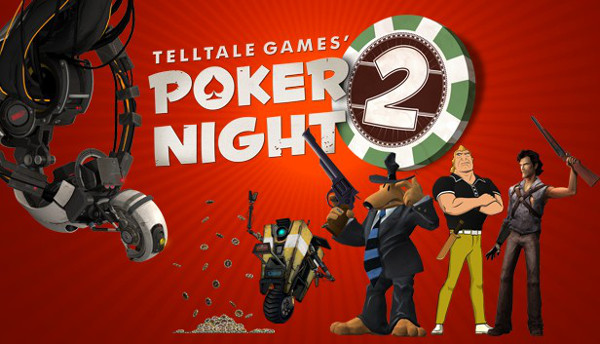 Quick, name your favourite Telltale Games character. I'm pretty sure Claptrap is appropriately disappointed at your choice of a far more versatile, playable character. Now imagine a sequel to a game where they all play poker against each other. Now stop imagining, because that game is being released!
An achievement in cross console cross-promotion, Poker Night 2 is stacked with unlockables that are accessible in heaps of big name titles, such as Borderlands  2 and Team Fortress 2. With exclusives for every platform and tonnes of in-game unlockables too, there's a lot of meat to this poker game. There are also characters from classic properties like The Evil Dead's Ash and the Venture Bros.
If that's not enough, the atmosphere of the Inventory, a bar hosted by Moxxi that holds the tournament, can be skinned if you win upgrades as well. Play cards in an Aperture lab – why not? It seems safe enough. While the game is out tomorrow iOS owners will have to wait a short while until it is available to them.
Grab the game here as of tomorrow.