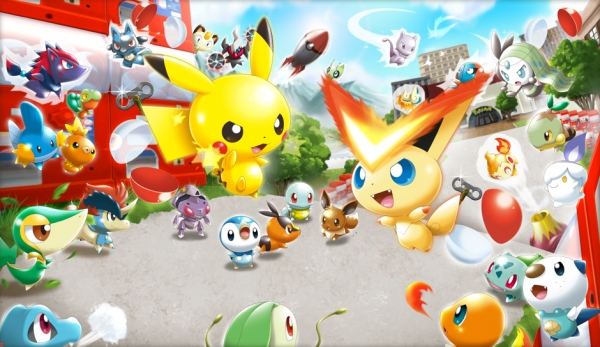 Only recently the Nintendo 3DS eShop (Japanese) began streaming a trailer for the newest Pokemon game to be released which is Pokemon Rumble U. The latest in the Pokemon Rumble series Pokemon Rumble U will be set for release on the Wii U and will be the first Pokemon game to be released on the new console.
This game is a a successor to the two Rumble games that came before it; the original Pokemon Rumble which was released in 2009 as a Wii Ware game and Pokemon Rumble Blast that was released in 2011 for the 3DS. Much like the other games the gameplay and story revolve around Pokemon Toys that are brought to life and, in turn, pretty much become real Pokemon. The story in the latest game is about a bunch of Capsule Toys who accidentally fall into a river and get lost in the wild, the toys then set off on a wild journey back to the Pokemon Shop that they call home.
What set's this game apart from the others is that physical figures, replicas of the in-game Pokemon toys, can be bought and used with the Wii U's Gamepad. When the physical figure is placed on top of the GamePad, the built-in NFC, or Near Field Communication, sensor will detect the toy and place that particular character into the game itself to be used as a character. This may remind you of what Activision did with the recent game Skylanders not too long ago.


Both the game and figures go on sale Wednesday. The game will cost 1,800 yen or about US$18. The physical Capsule Toys will be distributed nationwide to all the different Pokemon Centers and they will go for 200yen or about US$2 each. For the people who pre-order the download card for the game at a Pokemon Center will receive a special Pikachu NFC figure as a bonus.
Officially us here in Australia have barely gotten a whiff of information on whether or not this game and it's figures will be hitting our shores but considering both Pokemon and this style of gameplay (Skylanders) is just as popular here as it is overseas I can't help but think we'll be getting our hands on this soon.
Now go check out that Promo Video in our Featured Video section below and don't forget to hit up our comments section and drop us a line!