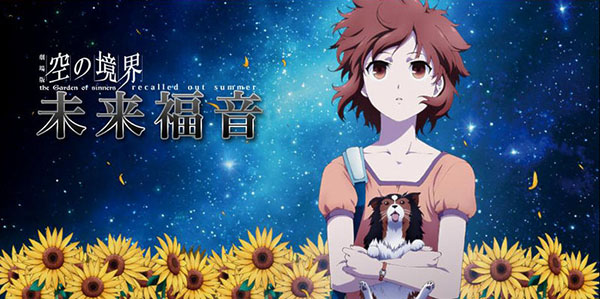 Type-Moon's Kara no Kyoukai – the Garden of Sinners film series is getting a new epilogue side story called Mirai Fukuin – recalled out summer, due to play in Japanese theatres this Fall. Animation studio Ufotable (Fate/Zero) and music composer Yuki Kajiura (Madoka Magica, Fate/Zero) are set to continue their work on the franchise.
Mirai Fukuin is divided into two parts, Mobius Ring and Mobius Link. The former is about two psychics who can predict the future and find themselves connected to the protaganists, Mikiya and Shiki. The latter takes place a decade after the events of the series, where Ryougi Shiki's daughter spends time with one of the psychics.
The Garden of Sinners has been released on limited edition Blu-Ray and DVD bundles by Aniplex of America, containing 7 films and a short epilogue. The promotional video for the upcoming anime film was posted on the official site during the Anime Contents Expo and can be checked out below.