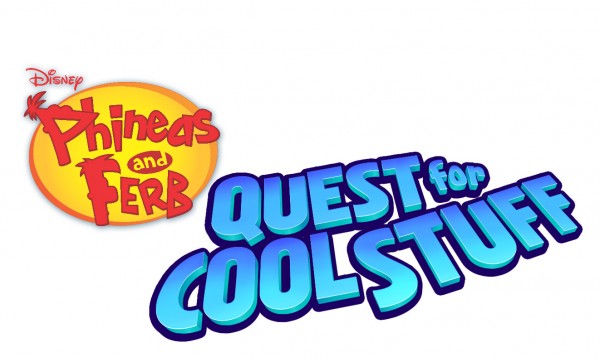 Majesco Entertainment and Disney Interactive have just announced Phineas and Ferb: Quest for Cool Stuff for the Xbox 360, Nintendo Wii, Wii U, DS and 3DS, expected to launch this August.
Phineas and Ferb have a new invention – the A.T.T. (All-Terrain Transformatron). This upgradeable, customizable, ultra-cool amphibious ride helps the boys hunt for lost loot to display in their backyard Museum of Cool. Phineas and Ferb: Quest for Cool Stuff features many fan-favorite characters from the hit show, including Perry the Platypus – aka secret Agent P, Candace, Isabella, Buford, Baljeet, and the evil Dr. Doofenshmirtz, who is determined to unleash his latest creation, the "get-rid-of-cool-stuff-inator" on the Tri-State Area.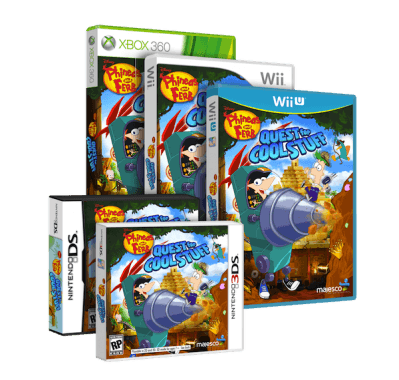 Chief Executive Officer of Majesco Entertainment, Jesse Sutton said;
Phineas and Ferb is a wonderfully inspired property marked by clever writing, iconic characters and outrageous adventures that appeals to the kid in all of us. This new interactive experience delivers all of the spontaneous fun from the show with a multiplatform release across consoles, handhelds and mobile platforms.
Phineas and Ferb: Quest for Cool Stuff's features include:
Multiple Gameplay Modes:
Exploration Mode: Switch on-the-fly between ambitious innovator Phineas and silent, but stoic "Man of Action" Ferb as they explore an ancient lost temple, underwater caverns and more in search of treasure!
Build, upgrade and customize the A.T.T. (All-Terrain Transformatron vehicle), then take it on treasure-seeking adventures around the world.
Action Mode: Transform Perry from subdued pet to super Agent P and battle the evil Dr. Doofenshmirtz.
Original Storyline: Experience four intertwining episodes filled with witty humor and outlandish adventures.
Museum of Cool: Display the loot collected inside including the lost Atlantis hieroglyph, caveman's first stone wheel, floating baby head, and much more.
Majesco also plans to release a unique Phineas and Ferb smartphone and tablet game simultaneously with other retail versions which will spotlight Agent P and the rest of the O.W.C.A. (Organization Without a Cool Acronym). Check out the gallery of first screenshots below! And finally, for more information on the game, visit www.MajescoEnt.com and keep it locked to Capsule Computers for future updates!