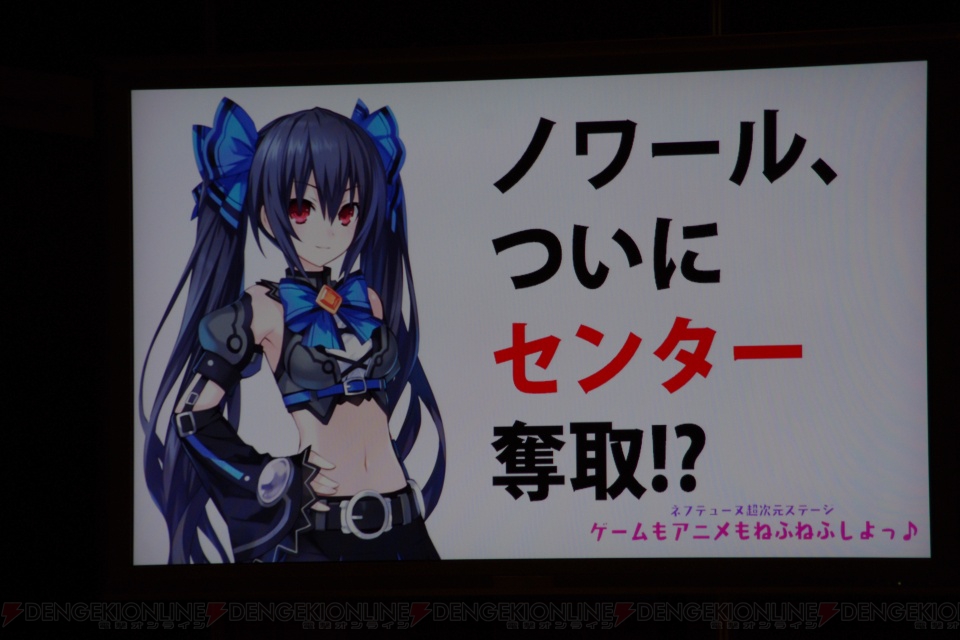 It seems that the Hyperdimension Neptunia series is doing extremely well in Japan. So well in fact that not only is Compile Heart working on Hyperdimension Idol Neptunia PP, an idol type of game for the Vita, but it has just been revealed at the Dengeki Game Festival that was held in Akihabara today that two more Vita titles are being worked on.
The first game revealed is actually a game that seems to star Noir, the PS3 type character, as the main character and it is called Chou Megami Shinkou Noel Gekishin Black Heart which I will not try to translate at the moment and a game called Chou Ji Jigen Game Neptune Re; Birth 1 which is a bit easier to translate into Hyperdimension Neptunia Re; Birth 1. While no details were revealed for Re; Birth 1, "Neptune, Restart" was shown after the game's reveal so it could be a Vita port of the first Neptunia title.
It is interesting to note that a gameplay video and opening video for Idol Neptunia PP was also shown off, but Dengeki did not state what was revealed.