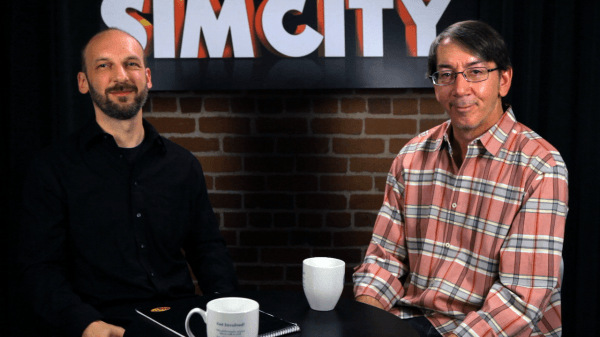 A little over a week ago, we shared with you a video of industry luminary and creator of the original SimCity, Will Wright, interviewing SimCity's (2013) creative director, Ocean Quigley. It was a special occasion to be sure. Well, today we have another video interview; this time Will is the interviewee at the mercy of SimCity's lead designer, Stone Librande. Check it out at the bottom of this article.
Firstly, I must get this out of the way: is everyone on the EA Maxis team named after an element of nature?! Ocean, Stone… are we going to see Breeze next?! On names alone, EA Maxis is the "hippiest" dev team in history, and we love them for it! But I digress… it's encouraging to see that the originator of the series enjoyed playing this upcoming reboot of his innovative original, released back in 1989.
Stone asks Will his thoughts on the experience, as a player and a person who is now looking in from the outside, so to speak. He also inquires as to Will's objectives as he played the game among other things. It's very cool to hear the feedback come from the series creator himself, and I'm sure EA Maxis were equally encouraged. SimCity is coming out March 7th in Australia and March 8th in New Zealand.