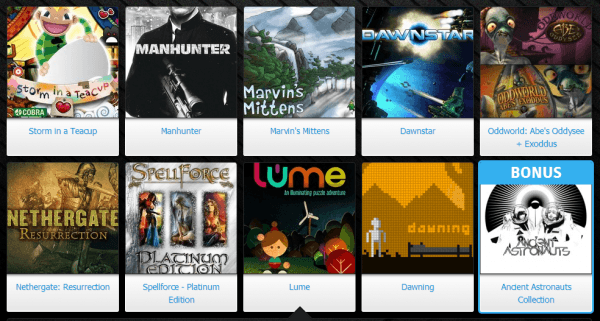 Groupees is back with their 5th Build a Bundle. Buyers must choose at least two games of the nine available games. Each game will raise the minimum price by $0.75 cents, though buyers are encouraged to pay what they want for the game.
Build a Bundle 5 features physics puzzler Storm in a Teacup, FPS Manhunter, 2d platformer Marvin's Mittens, space sim Dawnstar, classic platformer ODdworld: Abe's Oddysee and Exodus, isometric strategy game Nethergate: Resurrection, action RPG SpellForce: Platinum Edition, adventure puzzler Lume, and platformer Dawning. The games are a mix of Desura, Steam, and DRM free downloads. Several games are currently participating in the Steam Greenlight program. Those games successfully Greenlit will get Steam keys.
Build your bundle here.