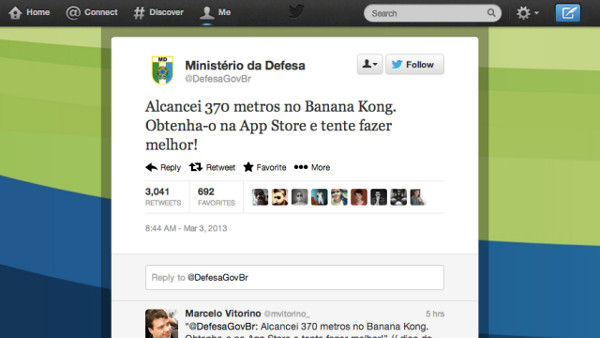 We all probably appreciate how good playing iOS games are for blowing off stream after a stressful day of work. Apparently whoever is in control of the twitter account for the Brazilian Ministry of Defence does too. It must be a tough gig, being the social media nerd surrounded by guys who blow away rebels in the jungle on a daily basis. Hilarity has ensued throughout Brazil.
It is now one of the top five apps in the Brazilian App Store. FDG Entertainment, the creators of 'Banana Kong,' congratulated the department on getting such a good score, but did say they would give them tips to help them improve.
The game is quickly becoming a national past time, because there's nothing better than being able to say you beat the entire Ministry of Defence at something.