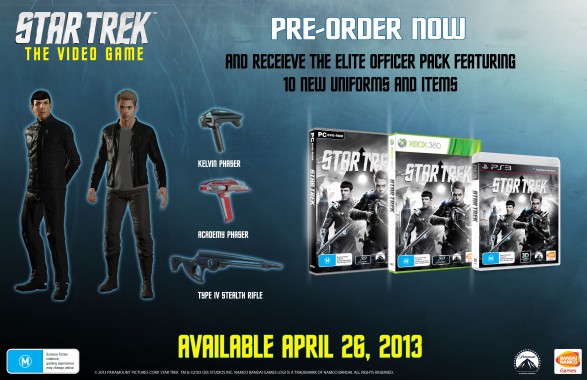 Earlier today Paramount Pictures announced the publisher for their upcoming Star Trek video game based on the leading movie franchise from director J.J. Abrams. Paramount Pictures have announced that this particular publisher is one that has a major industry standing and that it is for this reason that they have chosen to go with this group for the release of their game.
The company in question is the remarkable Namco Bandai games, most famously known as being two separate but awesome entities initially. After the merging of Bandai and Namco, the company went on to become known as Namco Bandai and have been conjoined ever since.
The game has been under development for quite a while and Paramount first showcased an Alpha build of the game during E3 2011. It is there that it won a few awards, such as "Most Valuable Game". The title is being developed by Digital Extremes who are most recognised by their work on the original Unreal Tournament game from Epic.
Star Trek will feature an original story penned by the person that wrote the God of War story, Marianne Krawczyk. So if you loved God of War, you'll love this.
Australian and New Zealand consumers who pre order Star Trek™: The Game will get access to the Elite Officer Pack, which contains 10 uniforms for Kirk and Spock as well as numerous weapons to use in game.
Be sure to check out the trailer embedded below for more details.