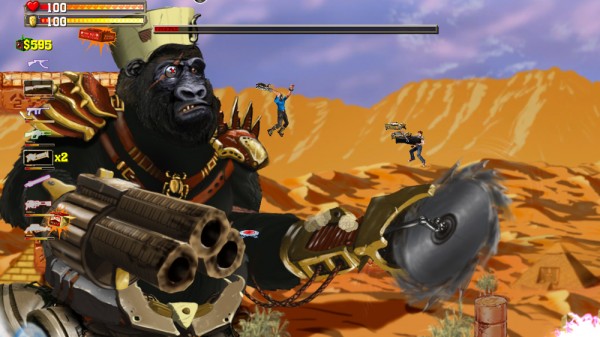 Have you ever looked at a gun in a game and thought 'this gun could use more guns?' Not a chainsaw attached to a gun a la Gears of War, or guns attached to a wheelchair as seen in Dead Rising 2.  I mean a gun attached to a gun. I have, and so have the makers of Serious Sam Double D XXL, but they took it to the extreme.
Serious Sam Double D was released on Steam late 2011 and has been a well received addition to the franchise. The side scrolling shoot 'em up is well suited for the XBLA format and the developers at Mommy's Best Games have included tonnes of new goodies for returning fans and new recruits alike. The stand out feature of this game has to be the ability to stack up to 6 guns on top of each other at once. In a video released today (see below) watching all six guns simultaneously lay waste to the hectic onslaught of Mental's horde is seriously hypnotising.
The XXL edition has several new features, outside of the usual XBLA leader boards and more missions. Co-op has been included for the Xbox as well as a wealth of new upgrades and enemy types. Serious Sam Double D XXL will be released on the 20th of February this year, much to the dismay of hoards of dudes with bombs for hands everywhere.