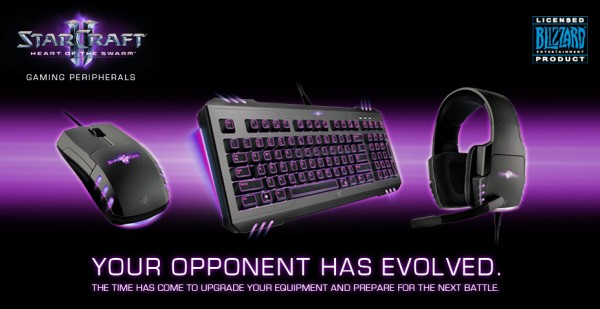 Did you miss your opportunity at obtaining a bunch of new StarCraft II perhipherals from Razer the first time they were released? Well now is your opportunity to pick some up for Razer are re-releasing some of these peripherals in celebration of the upcoming Heart of the Swarm expansion pack for the highly regarded multiplayer game.
These new peripherals are StarCraft II themed and are as follows. First, the Razer Spectre mouse, second is the Razer Marauder keyboard, next up is the Banshee headset and lastly is a StarCraft II themed messenger bag to carry them all in. Check out the details below.
Be sure to check out the Razer website for more information.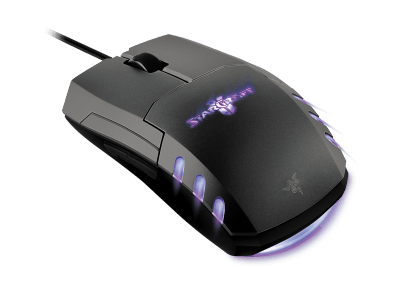 About the Razer Spectre™ StarCraft® II Gaming Mouse

Tournament-ready and designed for StarCraft® II, the Razer Spectre™ StarCraft® II Gaming Mouse is a lightweight, five-button mouse designed to provide precision and control for RTS gamers. The Razer Spectre features the newly developed APM Lighting System with a multicolor LED that provides real-time performance feedback through changing lighting hues and adjustable mouse button force settings for optimal mouse click speed and control. Equipped with a powerful 5600 dpi Razer Precision 3.5G laser sensor and a 1000 Hz Ultrapolling/1 ms response time, the Razer Spectre StarCraft II Gaming Mouse gives gamers exactly what they are looking for in an RTS mouse.

PRICE: US $59.99

FEATURES:

StarCraft II®-inspired Design
Lightweight, Fingertip-Grip 5 Button Mouse
5600 dpi Razer Precision 3.5G Laser Sensor
Backlit Mouse with APM Lighting System
Mouse Click Button Force Adjustment
1000 Hz Ultrapolling/1 ms Response Time
Hardware Configuration Utility

AVAILABILITY:
Available now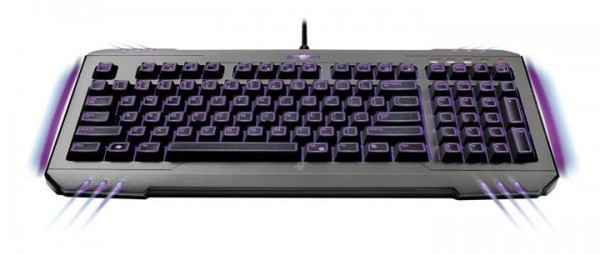 About the Razer Marauder™ StarCraft® II Gaming Keyboard

Designed for StarCraft® II, the Razer Marauder™ StarCraft® II Gaming Keyboard is a full-featured, tournament-ready keyboard maximized for compact design. The Razer Marauder features a multi-color backlit keyboard with an APM Lighting System that provides real-time performance feedback through changing color hues to complement the gaming experience. Enhanced with elevated keys for rapid command input and improved gaming performance and a dedicated on-the-fly macro recording system, the Razer Marauder is built with a gaming-optimized design inspired by the StarCraft universe.

PRICE: US $99.99

FEATURES:

StarCraft II®-inspired Design
Optimized Key Travel Distance
Backlit Keyboard with APM  Lighting System
Optimized Spacing with Laser-etched Keys
Razer Hyperesponse Technology
1000 Hz Ultrapolling/1 ms Response
Hardware Configuration Utility

AVAILABILITY:
Available now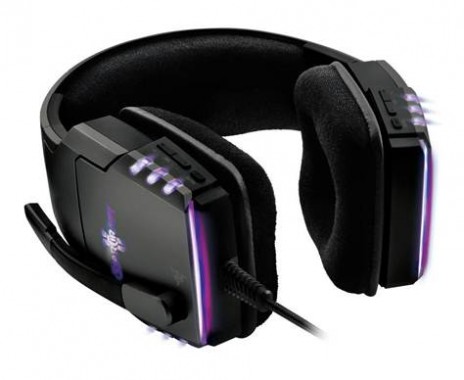 About the Razer Banshee™ StarCraft® II Gaming Headset

Designed for StarCraft® II, with a focus on maximum performance, comfort and sound isolation, the Razer Banshee™ StarCraft II Gaming Headset features a newly developed, multi-color APM Lighting System that provides real-time feedback on player performance. The Razer Banshee is equipped with a configuration utility for customized adjustments of equalizer, pitch and volume. Other special features include a detachable microphone boom for easy transport and a comfortable circumaural construction, all in a gaming-optimized design inspired by the StarCraft universe.

PRICE: US $89.99

FEATURES:

Gaming-Optimized Performance & Comfort
StarCraft II®-inspired Design
Backlit Headset with APM Lighting System
Circumaural Design with 50 mm Driver Units
Built-in Volume & Mic Control Buttons
Detachable Microphone Boom
Unified Software Configurator

AVAILABILITY:
Available Now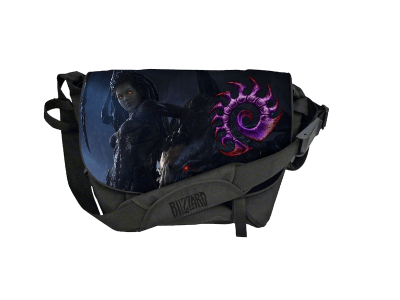 About the Razer StarCraft® II Zerg Edition Messenger Bag
The Razer StarCraft® II Zerg Edition Messenger Bag features artwork from the game and is designed to protect gaming gear in style.

PRICE:
US $79.99

FEATURES:

Tear-resistant, weather-proof heavy duty 1680 DEN ballistic nylon outer shell
Single shoulder sling design for added mobility
Easy, one-handed release chest clasp enables quick and convenient access
Built-in compartments for laptops, gaming peripherals and portable gaming device
Padded inner lining protects electronic devices and provides ample shock absorbency while on the road

AVAILABILITY:
Available Now