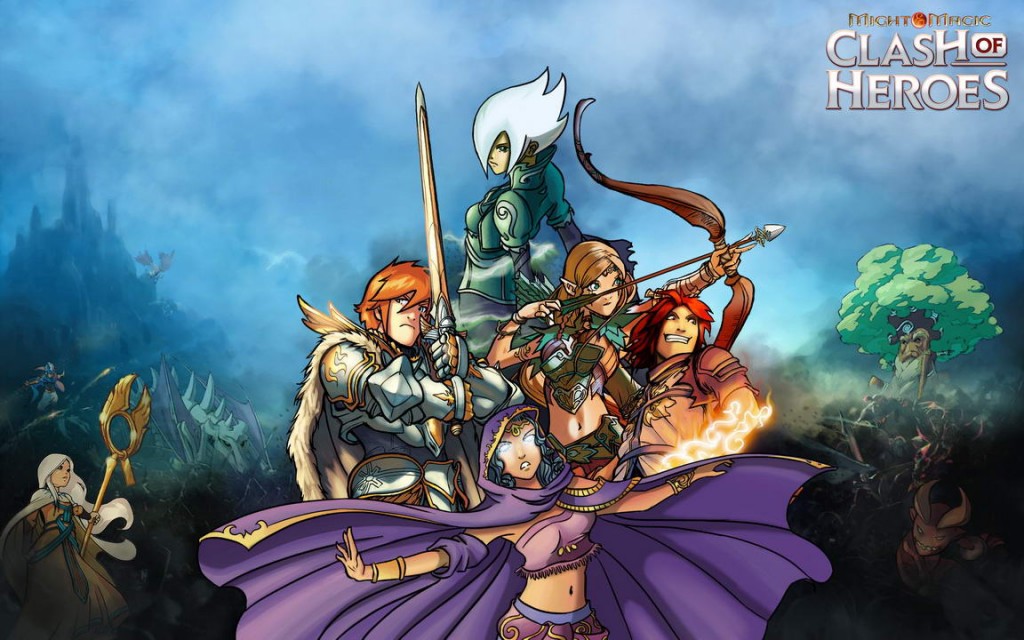 Welcome back for this week's iOS Game Suggestions. If you missed or are new to the suggestions, click on the link below and check what cool games you should be picking up for your iOS along with the introduction and disclaimer on how the suggestions work. (suggestions 1 has the disclaimer and how it all works)
MasterAbbott's iOS Game Suggestions
A pretty decent week on iTunes, as always it started slow and but ended with a bang! Certanly a few must buy games this week in all departments, FREE, 99c and over 99c. This week i've suggested a total of 17 great quality titles. Make sure you check them all especially Might & Magic Clash Of Heroes,  Cracking Sands, Dingle Dangle, Ghostbusters just to name a few.
Break down below :
7 – FREE Games
3 – $0.99c Games
7 – Over $0.99c Games
As always for this week's suggestions are all new titles that you should take a look at and consider spending your hard earned iTunes cash / time on.  Well the Free games just below certainly should all be given a shot as they won't cost you anything!
For The Cheapskates – FREE GAMES
 

MASTERABBOTT'S FREE GAME PICK OF THE WEEK!

Ghostbusters – Price : FREE – Publisher – Beeline Interactive (There's something strange in the neighborhood, and New York City has called YOU to get the ghosts out of The Big Apple. Build your own team of Ghostbusters from the ground up as you bust troublemaking spooks throughout the city. Form your own franchise in a local firehouse and answer ghostbusting calls, research and upgrade your equipment and conduct experiments to unlock better gear and tactics) on iPad & iPhone. GET IT NOW FOR FREE

 
Guns'n'Glory Heroes – Price : FREE – Publisher –

HandyGames

 (The realm is under attack as Orcs, apostate Elves and dark knights roam the lands! Help our heroes Smirl, Arlon and Eloa in their epic struggle against this evil menace! Harness the power of light and face your enemies! Annihilate whole armies with magical fire and ice! Unleash the Dwarven Fury upon your foes and split Orcs skulls! Join your party of stalwart heroes and become the Champion of the Hill Lands!

) runs on iPad & iPhone.

GET IT NOW FOR FREE
Bumpin' Uglies – Price : FREE – Publisher –

Bumpin' Uglies

 (Design your Ugly — a hapless, adorably ugly creature with the intellect of a block of wood — then dominate the gene pool, one bump at a time! Encounter vortexes, wind tunnels, rotating wheels, moving walls, pinball bumpers, spring-loaded traps, button puzzles and more as you fling your Ugly through 45 crazy-fun, puzzley worlds!

) runs on iPad & iPhone.

GET IT NOW FOR FREE
 
Galaxy Life: Pocket Adventures – Price : FREE – Publisher –

Digital Chocolate

 (Galaxy Life: Pocket Adventures is a new genre of massively multiplayer online strategy game for iPhone, iPad and iPod Touch. Join the most entertaining strategy war game of the galaxy! Install the game for free to take control of crazy Starling aliens, build rich planetary colonies, defend against invasions and lead your troops through interstellar epic battles!

) runs on iPad & iPhone.

GET IT NOW FOR FREE

 
Tiny Sheep – Price : FREE – Publisher –

SiuYiu Limited

 (One day as you were strolling in a beautiful meadow you spot a fluffy white object descending from the clouds. As you get closer you realize it is a tiny white sheep! You stood flabbergasted as you watch it floating down. You walk towards the sheep, it looks at you with big, adorable sheep eyes.

) runs on iPad & iPhone.

GET IT NOW FOR FREE

 

wePlay – Price : FREE – Publisher – Thumper Studios (The hilarious FREE 'fill in the blank' game that you play against friends! Compete to see who can create the funniest sentence possible! If you like Apples to Apples, Cards Against Humanity, Mad Libs, Balderdash or other party games… you'll love wePlay!) on iPad & iPhone. GET IT NOW FOR FREE

 
Animal Park Tycoon – Price : FREE – Publisher –

Bulkypix

 (Lion, gorilla, zebra, unicorn… As an animal lover, have you always dreamt of building your own zoo where your cute little creatures would live? Animal Park Tycoon offers you a FREE empty plot to create the most fabulous and attractive zoo. Discover new creatures and collect legendary species to make your animal park unique and famous. It's up to you to manage your zoo's reputation and attractiveness: keep your animals happy and healthy and decorate your zoo with exotic trees and beautiful flowers. This will convince visitors around the world and even your friends to come visit.

) runs on iPad & iPhone.

GET IT NOW FOR FREE
For The Bargain Hunters – 99c Games
 

Banana Kong – Price : $0.99 – Publisher – FDG Entertainment (A thrilling ride through jungle, caves and treetops. Play as Kong! Banana Kong! Run, jump, bounce and swing on vines as you help Banana Kong to outrun a huge banana avalanche! Keep full control with highly responsive single-finger tap and swipe controls. Ride the boar or fly with the toucan to overcome dangerous obstacles like massive boulders, crocodiles, piranhas and boiling lava. Nature can be a cruel enemy…) runs on iPhone & iPad. BUY NOW

 

Tennis In The Face – Price : $0.99 – Publisher – 10tons Ltd (This is no Wimbledon, this is Tennis in the Face! Get ready for some hilarious ragdoll-smashing ball-bouncing action! Help Pete Pagassi to save the city from an evil energy drink corporation Explodz. Knock out creepy clowns, evil riot police and other Explodz-addicted maniacs with a tennis ball in the face. Bounce the ball off walls to reach targets lurking in cover and watch them tumble hilariously. Trigger masterful chain reactions and watch the chaos unfold. Finally enjoy the level finale in slow motion!) runs on iPhone & iPad. BUY NOW

Dingle Dangle – Price : $0.99 – Publisher –

Chillingo

 (Who wants to dangle for some Dingles? Meet the adorable Dingles, furry little critters who live below the ground just waiting to be lifted to safety. With the help of a pirate's airship and his trusty grapple, use intuitive tilt controls to dangle your rope into deep, spike-filled underground burrows.) runs on iPhone & iPad.

BUY NOW
For The Millionaires – All games over $0.99
 

MasterAbbott's over 99c Pick Of The Week!

Might & Magic Clash Of Heroes – Price : $4.99  – Publisher – UBISOFT (The award-winning RPG is now remastered and optimized for iPhone and iPad! Live the epic adventure of 5 young Heroes leading their armies to save the world of Might & Magic. Discover a unique mix of RPG and exclusive puzzle battle mechanics.) runs on iPhone & iPad. BUY NOW

 

Mushroom Wars – Price : $2.99  – Publisher – SMS Services (A dreadful menace threatens the Mushroom kingdom. An unknown enemy has made mischief among the Mushroom folk, and once friendly neighbors begin to fight each other. Lead the Mushroom Army and mediate peace in the forest! Mushroom Wars is a dynamic real-time strategy. Defeat enemy tribes or capture key strategic locations! Increase the size of your army, complete the construction of your villages, improve your weapons, capture smith shops or hold defensive towers – it's up to you to choose your way to victory!) runs on iPhone & iPad. BUY NOW

Old Clockmaker's Riddle – Price : $2.99 – Publisher –

G5 Entertainment

 (Break the spell cast upon a tiny town by solving the Old Clockmaker's Riddle in this fascinating Match 3 story! When the clock of a prosperous and happy little town starts running backwards, the place suddenly falls into decay. Play over 50 tantalizing levels – matching three gems in a row – to remove the curse and return the town to its former glory!

) runs on iPad.

BUY NOW

 
NFL Quarterback 13 – Price : $1.99 – Publisher –

Full Fat

 (BE THE QUARTERBACK! The #1 sports game returns to the field for 2013 with explosive new content in the only Official NFL QB game. You are the Quarterback. You call the shots! Your receivers power off the line. Who are you passing to? Where's the D? Who's in coverage? In a split second, aim, lead your receiver and THROW! Can you handle the pressure of being the most important player on the team?) runs iPad & iPhone. BUY NOW
 

Wave  Trip – Price : $1.99  – Publisher – Lucky Frame (Wave Trip is a musical arcade game. You control a mysterious and wonderful geometric astronaut as she travels through worlds of unimaginable beauty and danger, saving her friends through the medium of awesome tunes. All of the levels can be remixed and edited, and players can create their own levels and share them with the world. Since every object in Wave Trip has musical characteristics, creating a level is just like writing a piece of music – just easier (and with more cubist sheep).) runs on iPhone & iPad. BUY NOW

 

Cracking Sands – Price : $4.99  – Publisher – Polarbit. (In a world ravaged by global warfare, small pockets of survivors scratch out a meagre existence, living off the remains of a shattered civilization. Society has been reduced to a tribal state, where rank and social standing is based on one thing and one thing only: death races!) runs on iPhone & iPad. BUY NOW

 

MyTP 2.5 – Ski, Freeski and Snowboard – Price : $1.99  – Publisher – Randerline. (It doesn`t matter if you prefer skiing or snowboarding – MyTP 2.5 finally leads you on the right track ! Featuring incredible 60 levels with a ton of of kicker lines, boxes and rails… smooth & technical halfpipe riding… big air events… individual characters from head-to-toe… replay options with picture export and much more !) runs on iPhone & iPad. BUY NOW
There you have it folks, these games should keep you busy for quite some time, well till next week at least. I'll be back next week for another dose of iOS goodness, in the meantime if anyone would also like to suggest their own suggestions, please feel free to share them in the comments section below or in the iOS forum section on the site here.
Remember kids, Play Hard Or Don't Play At All!