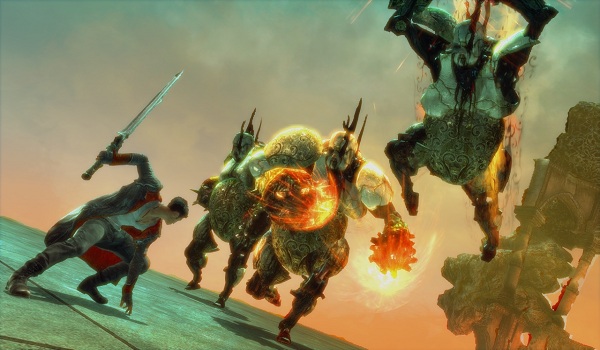 Fans of Devil May Cry 3 and 4 may remember the "Bloody Palace" game mode that put players in an arena where they literally fought thousands of levels upon levels of murderous demons until they could take no more. Avid players of the game would often compete with their friends and in tournaments to see who could get the best score, with the winner gaining respect and uhm… hack-and-slash cred. DmC Devil May Cry looks set to continue this trend with an all new "Bloody Palace" mode built around the same concept and goals; several screenshots of which can be found down below.
Once the game launches players will know whether or not they can play with more than Dante, as in Devil May Cry 3 they could use Dante and Vergil and in 4 they could use both Nero and Dante. It stands to reason then that because of the upcoming Vergil's Downfall DLC where we get to actually have hands on time with the cool Dark Slayer himself, that he will most likely appear as usable in the game.
This mode comes as a free title update shortly after the game will be released, with no additional charges or codes needed to access it. With over one hundred levels of demons to fight and five different brutal bosses to face, players will certainly have their skills tested on the Global Leaderboards, where they can compete with others from around the world to decide who is the ultimate Demon Slayer.
DmC Devil May Cry will be released in just five days on the 15th of January for the Playstation 3, Xbox 360 and PC. Jackpot!