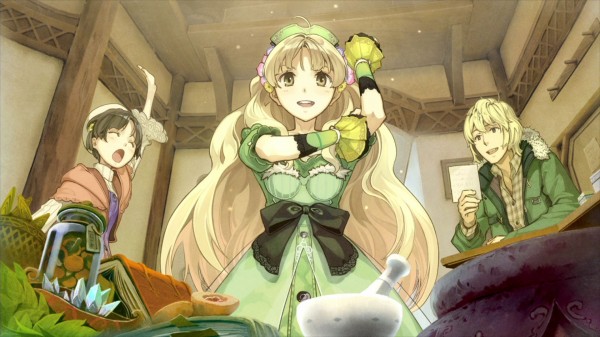 Despite the fact that Atelier Ayesha: The Alchemist of Dusk was released in Japan back in June, there has been little word of the title actually being released overseas. It is worth noting that a European version of the game was announced for release during Q1 2013, however oddly enough, the game has not been announced for North America.
However hope for the a North American release has been ignited once again thanks to the fact that the ESRB have provided a rating for Atelier Ayesha: The Alchemist of Dusk. The rating went up earlier today and interestingly enough, the listing actually shows "TECMO KOEI AMERICA Corporation" under the game's Company compared to the other listings for Atelier titles which are labeled "NIS America, Inc."
It is worth noting that Gust, developer of the Atelier games, was purchased by Tecmo Koei in Japan at the end of 2011, so this could mean that Tecmo Koei may be handling the title in the West entirely now, instead of just for European nations as previously thought.
As for the rating itself, the game was given a Teen rating and the summary can be found below:
This is a role-playing game in which players assume the role of Ayesha, a young girl attempting to save her sister by learning alchemy. Players control and encounter characters, explore various landscapes, and battle numerous fantastical enemies (e.g., rock monsters, lizards). Players use swords, magic attacks, crossbows, and occasional firearms in turn-based battles (i.e., selecting attack moves from a menu screen).

During the course of the game, a handful of cutscenes include suggestive material: two female characters accidentally groping each other in a dark cave; a female character discussing being touched by men (e.g., "Whenever something happened, some guys would always touch my butt in the midst of the confusion"); two female characters taking a bath together (deep cleavage is depicted). One scene briefly depicts the central character passing out after drinking alcohol; dialogue also refer to intoxication (e.g., "I guess I'll start with the hard liquor! Give me one that's got a high proof!" and "If anything, there's so little alcohol, even a kid might not get drunk off of it."). One character is occasionally smokes cigarettes in the game.
Update: We have contacted NIS America concerning this listing and Ryan Philips, Public Relations and Marketing Coordinator at the company, has stated that "We [NIS America] did localize Atelier Ayesha, however Tecmo Koei will be publishing it." So while this means that NIS America still handled the translation and the voice work, Tecmo Koei is going to be handling the final publishing and marketing.