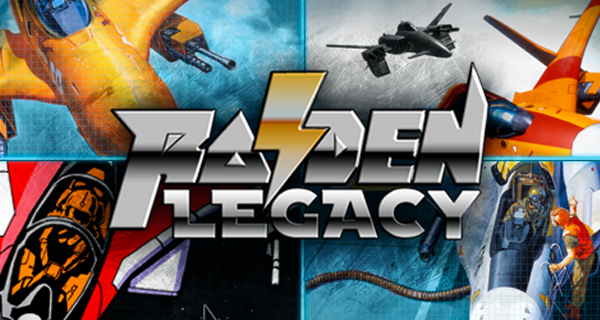 "An interview conducted with DotEmu"
The Raiden series has been around for quite some time and has garnered much success since its release in 1990. For a 26 month period, Raiden had maintained top ten ranks in arcade game charts. That's quite impressive for a scrolling shooter. Just before the Cranassians – deranged alien race – invades Earth again, Capsule Computers were able to sneak an interview in with the Raiden Legacy team.
---
People included in interview:
| | | | |
| --- | --- | --- | --- |
| R.T. | = | Romain Tisserand | (Developer, CTO) |
| C.C. | = | Christian Cortez | (Developer) |
| J.I. | = | Jessica Iragne | (Marketing) |
1. What is your name and your role in creating Raiden mobile?
R.T. : Hello, my name is Romain Tisserand. I'm the CTO & Co-Founder of DotEmu. I have developed the first prototypes of Raiden mobile and wrote some of the emulation code used for Raiden 1 and Raiden Fighters game.
C.C. : Hi, my name is Christian Cortez and I am the main developer of Raiden Legacy. I have developed all the game user interface and I have worked on gameplay elements such as touch controls, auto-fire features and more. I also took care of the architecture of the game (Mission mode, Achievements and "new" features).
2. Being a classic arcade game, what is the target population for the ported title?
R.T. : We target both « hardcore » shmup fans as casual / newcomers. That's why we have a lot of control options and additional customization available in Raiden Legacy!
C.C. : We implemented a lot of features like « Fast Touch » controls or autofire in order to help newcomers but we didn't forget the hardcore gamers! An « Arcade Touch » mode (like the original, taking into account ships speeds) and an harder difficulty mode are also present to all fans of the original games. In fact, anyone can play at Raiden Legacy the way he wants!
3. How are/will you market this rendition to others not affected by Raiden's nostalgia?
J.I. : I think this compilation will attract different kinds of gamers. In a first way, the Raiden's nostalgics who want to experiment a new way to play those games on their mobiles. And we know they will be very demanding! In a second way, the shmup lovers, and maybe some of them didn't play all the Raidens before so it's a good opportunity. Some mobile players can discover it thanks to reviews and news about the game on websites, magazines even if they haven't heard about it before. Moreover this is also a favorable circumstance for young gamers to discover these famous retro games! A shoot'em up is a game genre that everybody could enjoy, it's always fun and it doesn't matter how old you are!
4. For those that have not experienced the Raiden series, what can you tell us is its main selling point?
J.I. : Raiden Legacy includes 4 classics games of the series that was very popular in the 1990's (Raiden, the first one, has been 26 months at the top 10 in the charts). In that mobile version, each of these scrolling shooters has not only been authentically recreated for mobile, but also enhanced with brand-new features: more options (3 game modes), controls scheme adapted to touch screen, new UI localized in many languages, achievements and leader boards.
5. Raiden Legacy App is to include the original shoot 'em up "Raiden" as well as three others (Raiden Fighter, Raiden Fighter II, and Raiden Fighter Jet) in the series. Will the other titles (Raiden 2, Raiden DX, ….) be available upon the initial release?
R.T. : That is currently under consideration, but there's some technical issues on bringing back Raiden 2 and DX. We're currently trying to resolve with help of Success and Seibu Kaihatsu.
6. Ported titles to newer consoles/devices sometimes revise user interface and create unlockable content for the player to explore. Can we expect any extras with Raiden coming to mobile devices?
C.C. : The "Mission mode" will be locked at the beginning of the game. You will have to do your best in "Arcade mode" in order to unlock missions. Moreover, 15 unlockable achievements are implemented in both iOS/Android (compatible with GameCenter and ScoreLoop)!
7. iOS and Android have touch screen features which are alien aspects from these arcade classics. How difficult was it to implement these new controls?
C.C. : The most important was to always trying to respect the original controls. We implemented the "Arcade Touch" mode which is the equivalent of classics controls. But it was not enough to make a good gameplay on smartphones. So we decided to create another mode "Fast Touch", designed for mobiles, which makes the ship moves as fast as your finger in the screen. And because we know that sometimes players love to play with physical buttons and stick, we implemented the iCade support for iOS!

8. Was there much difficulty or on-going issues making the game in comparison compatible for both iPhone and Android? Is there any significant differences?
C.C. : The most difficult part was maybe the support of all the different resolutions, in the emulation and in the menus. The implementation of the online scoring system (Game Center for iOS / ScoreLoop for Android) was also a tricky part, and this feature is maybe the most significant difference between the two platforms.
9. Of the four installments for "Raiden Legacy", what was your personal favorite to transfer to the touch screen?
R.T. : I personally feel like « Raiden Fighters » is really awesome on my Android phone. It has a good pace and gorgeous graphics.
C.C. : Raiden Fighters Jet is my favorite one. It is, to me, the most impressive, with a lot of various environments and huge bosses.
Raiden Fighters Jet (iPhone 4) Vs Raiden Fighters Jet (iPhone 5)
10. I know there are a lot of questions being asked about "Raiden Legacy" from the fan base concerning cost and system requirements. What can you tell us from a developmental standpoint as far as consumer affordability?
R.T. : On Android side, any middle-end / high-end phone featuring Android 2.3 and an ARMv7 CPU should be able to run the game. It's really difficult to tell on Android due to fragmentation, but we tested on many popular devices without an hitch, even on older Samsung Galaxy S. Just don't expect the game to run on low-end phones, obviously.
C.C. : The game will be available for iPhones, iPod Touch and iPads. All devices from the iPhone 3GS with at least iOS 4.3 will be able to launch the game. However, it is strongly recommended to have at least an iPhone 4, or equivalent, to have a perfect gaming experience.
---
Concluding from this interview, I felt that DotEmu strongly believes in there product and wants to share the nostalgic experiences of the Raiden series with more than its original fanbase. What we have gathered here is an understanding that the developers behind the ported title wanted to preserve the most natural aspects and deliver new achievements/unlockables for players to enjoy. Additionally, the idea of potentially working on other Raiden titles may spark intrigue for a lot of the current fans.
Take a little trip over to (Raiden Games) Facebook page to learn more about its upcoming December 4th release!