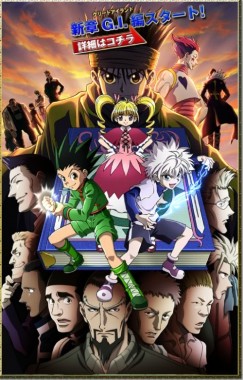 This week marked the conclusion of arguably one of the greatest shonen anime story arcs of all time in Hunter x Hunter's York New City Arc. With one arc ending another always begins and NTV have already begun the big sell for the Greed Island arc, the infamous story arc Togashi's manga that popularized the 'inside a video-game' type storylines in anime and manga.
NTV have updated their Hunter x Hunter website with a number of new promotional features for Greed Island, including the poster which can be seen to the right. The poster features a variety of the new characters that will be a part of the Greed Island arc.
Greed Island focuses on Gon and Killua as they venture into the titular Greed Island video-game in search of information that could help Gon in his greatest hunt of all, finding his father the legendary hunter Ging Freecss.
The Greed Island arc begins next week with episode 59. Be sure to let us know what you think in the comments section below.