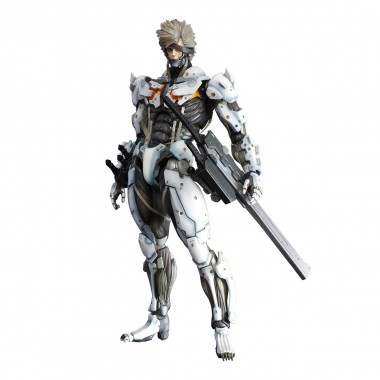 Konami has announced that there will be an Australian and European Limited Edition preorder for Metal Gear Rising: Revengeance. The Limited Edition will include a 30cm figurine of White Armour Raiden, along with a special DLC that allows you to access White Armour Raiden in the game (which will also increase your capacity to carry life-recovery items).
Along with White Armour Raiden there is a choice of steelbook covers and unique DLC. The first cover is an illustration of Raiden by Yoji Shinkawa, the concept artist and DLV that unlocks Inferno Armour. The second is a render of Raiden and has the DLC code for Commando Armour. Either way, they both sound awesome and it certainly looks like it's worth going in to put a preorder down on Metal Gear Rising if you're keen on it.
Metal Gear Rising: Revengeance marks the return of Raiden, who must stop the renegade private military company, by using his 'High Frequency' blade and skills. Thanks to an awesome blade there are some truly fantastic action sequences, and I'm sure a lot of you will enjoy being able to play as Raiden again.
To pre-order Metal Gear Rising: Revengeance simply head to your local EB Games or JB Hi-fi and put down a deposit! What are you waiting for?