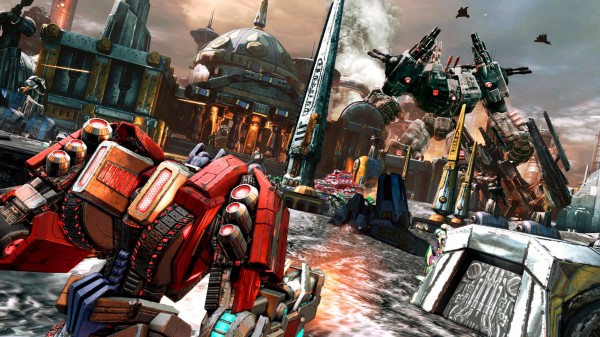 Transformaniacs be excited! Transformers: Fall of Cybertron now has brand new DLC packs now available and some coming in the near future to spice up your transforming experience.
To celebrate these DLC packs, High Moon Studios has released a trailer for the DLC which can be seen below. The DLC packs are as follows:
Dinobot Destructor Pack: (Available Now)
GRIMLOCK (T-rex)
SLUG (Triceratops)
SNARL (Stegosaurus)
SWOOP (Pteranodon)
Multiplayer Havoc Pack: (Available Now)
ULTRA MAGNUS
WHEELJACK
BLAST OFF
ZETA PRIME
PERCEPTOR
Massive Fury Pack: (Out September 25th
KICKBACK (Flying Insecticon)
SHARPSHOT (Flying Insecticon)
HARDSHELL (Beetle Tank Insecticon)
G1 RETRO OPTIMUS PRIME
AUTOBOT HOUND
Single-Player campaign items:

G2 BRUTICUS (character skin)
G1 SHOCKWAVE BLAST CANNON (weapon)
G1 MEGATRON PISTOL GUN (weapon)
All of these DLC packs are available for 800 Microsoft points on the Xbox 360 and $9.99 on the Playstation 3. You can check out our review of Transformers: Fall of Cybertron
here
and be sure to let us know what you think of these DLC packs in the comments section.