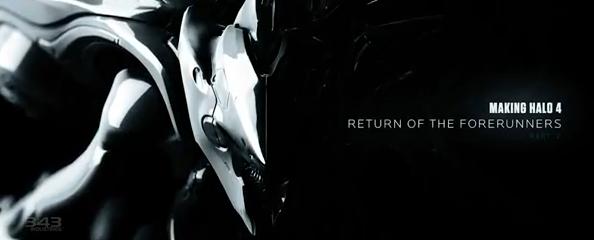 Ever since the new enemy for Halo 4, the Prometheans, were revealed earlier this year, the race has kept fans guess due to 343's tight lips. Well, that mystery is starting to get cracked, as a new video documentary has hit the web today by the name of  Making of 'Halo 4' – Return of the Forerunners.
Here is a bit of info before you set your eyes on the clip:
The 10-minute ViDoc offers a behind-the-scenes look at the creative process behind the Prometheans, the menacing new class of Forerunner enemies that will dramatically change the gameplay sandbox and pose the most formidable threat the series' iconic hero, the Master Chief, has ever faced.
Featuring never-before-seen concept art and development footage, as well as in-depth commentary from "Halo 4" creative director Josh Holmes, franchise development director Frank O'Connor, executive producer Kiki Wolfkill, narrative director Armando Troisi, art director Kenneth Scott, as well as lead concept artists, animators, VFX artists and designers, the ViDoc offers a captivating look at the design process behind the first brand-new class of enemies in the "Halo" series since its inception more than a decade ago.
It's pretty exciting to see a new race in a franchise like Halo, and this should be just enough to give the 4th incarnation that unique feeling older fans can grip on to.
There is still more to chew on however, as a new "Joyride" video has hit the Waypoint, and acts as a vignette for the upcoming series, "Halo 4: Forward Unto Dawn".
Check out the vidoc below and the vignette at Waypoint, and stay tuned, as there is sure to be plenty more Halo 4 coverage to come.