MADMAN Entertainment has a slew of new releases coming out this month, so check out the descriptions below and see what's looks good to you.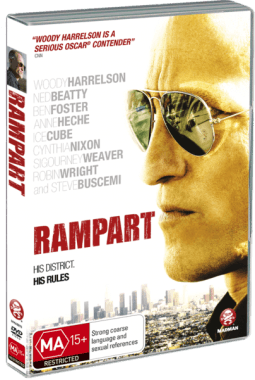 Rampart sees Woody Harrelson as L.A. police officer Dave Brown caught taking justice into his own hands a paying dearly for it.  Featuring a cast of leading actors and actresses, does Brown have what it takes to save himself?  Check out Rampart at MADMAN's website HERE.
Next up is the Oscar-nominated documentary Hell and Back Again telling the story of Sgt. Nathan Harris who, after being injured while on duty in Afghanistan, must make the difficult journey home.  What's harder to do, fighting overseas or learning to fit back at home?  Check out Hell and Back Again at MADMAN's website HERE.
Continuing with dark and drama is King of Devil's Island a Norwegian film based on the true events concerning Erling coming and escaping from the Norwegian reform school located on an ice-bound island.  Sent to be reformed into a good Christian citizen, Erling's escape will turn him from fugitive to rebellion leader.  Check out King of Devil's Island at MADMAN's website HERE.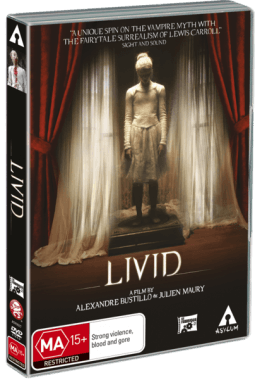 Not all the releases are so dark this time as Romantics Anonymous tells the story of two haplessly shy and bashful chocolate makers need each other to save the company and find happiness with each other.  Interested readers can check out the French film at MADMAN's website HERE.
Still French, but back to the darker side of film Livid sees three young adults looking to score a treasure from huge estate of a comatose ballet instructor.  Finding themselves trapped with horrors galore, the three must try to escape as best as they can.  Check out Livid at MADMAN's website HERE.
Headshot is a Thai film that features Tul, a cop turned assassin who suffers an unfortunate shot to the head that leaves him in a coma for months.  After finally awaking, Tul discovers that he now sees everything upside-down.  Seeing this as a sign to quit the assassination business, Tul finds that quitting isn't an option and must continue the violence he wanted to give up.  Check out Headshot at MADMAN's website HERE.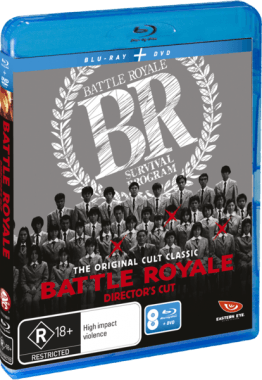 The cult hit Battle Royale is making it's way through MADMAN on DVD and Blu-Ray, so that those who haven't experienced the story of a class forced to kill each other can finally get to it.  42 students, with 3 days to kill each other, start out with a random weapon and must become the sole survivor or else everyone dies.  Check out Battle Royale at MADMAN's website HERE.
For TV, those interested in Hugh Laurie's first dramatic role can look into All or Nothing at All. The tale of Leo, a conman playing it fast with other people's money, the mini-series follows Leo as he spirals into serious trouble, can he make it out?  Check out All or Nothing at All at MADMAN's website HERE.
Fans of Series 1 of the Danish show The Protectors will be pleased to hear the Series 2 has just released.  Follow the Danish Intelligence Bureau's Personal Protection Unit as they try their best to protect VIPs.  Check out The Protectors Series 2 at MADMAN's website HERE.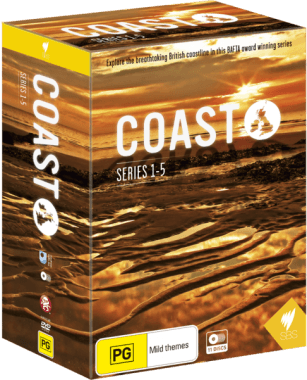 Those wishing that they could see more of the English coast may finally be able to get their wish with the release of the box set of all 5 series' of The Coast.  Featuring vast amounts of coastline as the series goes from almost every stretch of around the main islands as well as the smaller ones.  Check out The Coast: Series 1-5 at MADMAN's website HERE.
Fans of River Cottage will be interested to see what more Hugh Fearnley-Whittingstall can get up to and cook in the two sequel series' to the original.  Beyond River Cottage and River Cottage Forever has Hugh trying to do even more with the backdrop of the countryside.  Check out the MADMAN website for Beyond River Cottage HERE and River Cottage Forever HERE.
Dinosaurs fans will be excited to hear about the David Attenborough series Flying Monsters 3D.  Focusing on the pterosaurs and why they took to the skies, the series utilizes 3D to give viewers a better sense of what these creatures could do with their 40 foot wingspan.  Check out Flying Monsters 3D at MADMAN's website HERE.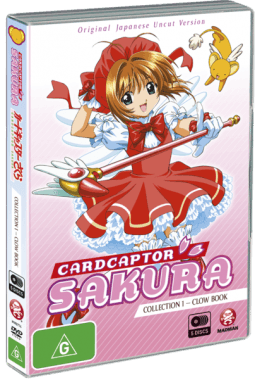 In anime news, two series have just been released from MADMAN.
Cardcaptor Sakura sees 10 year old Sakura accidentally breaking the deal of a magical book and now being tasked with collecting all the spirits that have escaped before it all goes wrong.  Check out Cardcaptor Sakura at MADMAN's website HERE.
K-On! on the other hand features the story of the members of the Light Music Club as they go through Sakuragaoka Girl's High School and try to keep the club together and make a name for themselves in the process.  Anime fans check out the MADMAN website to find K-On! (Season 1) HERE and K-On!! (Season 2) HERE.