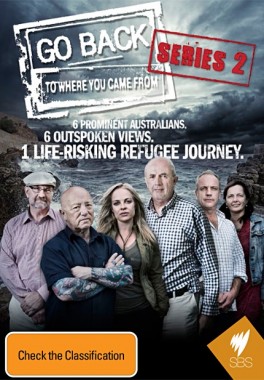 Go Back To Where You Came From is a highly topical show that has just seen the airing of it's second season. Asylum seekers and refugees are just about the biggest hot potato imaginable in Australia, so any show that tackles the subject head on is daring indeed. The first season saw six regular Australians travel around the world to see the other side of  the refugee crisis, and for the second season six prominent Australians get the same eye opening treatment.
The group includes Angry Anderson, rock musician and conservative political activist; Peter Reith, former Howard Government senior cabinet minister; Imogen Bailey, actress and animal rights activist; Allan Asher, former Ombudsman; Catherine Deveny, writer and comedian; and Michael Smith, former radio shock jock.
The show is an intriguing watch, as the group – who have various mixed views on the issue – are confronted with the reasons why so many people are fleeing to Australia. It's a rare programme that seeks to inspire debate, allowing people of different political views and cultural backgrounds to be presented with the realities of an incredibly confronting issue.
SBS have just announced that Go Back To Where You Came From Season 2 will be released on DVD on November 7 2012, retailing at $29.95.