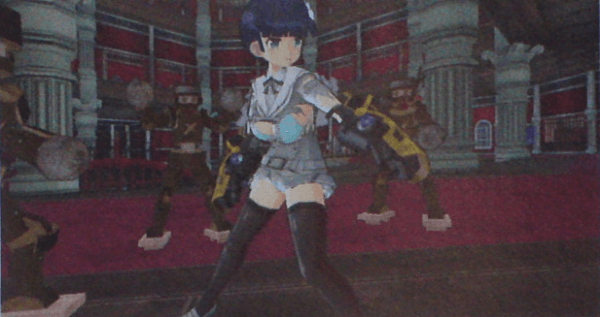 Some of you may remember that during Sony's Tokyo Game Show presentation they revealed that Marvelous AQL is working on a Senran Kagura game exclusively for the PlayStation Vita. The name of this game happens to be Senran Kagura: Shinovi Versus and some scans from the latest issue of Famitsu, courtesy of TaleTaleSource, give us a quick look at the game's characters, gameplay and features.
Rather than playing on a 2D field like the 3DS versions, battles will take place on a 3D plane where gamers can access 20 playable characters. The characters will still have their clothing ripped up and destroyed as they fight and gamers can play against others via a Wi-Fi connection. Along with the previous schools in the game, two new forces will be added into Shinovi Versus.
The "Death Cram School Ladies Institute of Moonlight" and "Red Blaze Corps" will be joining the "National Hanzou Academy" and "Private Ladies Academy of the Serpent" this time around. Famitsu also details that all first run versions of the game will feature a visual art book, a soundtrack, a drama CD and a folder with a risque image of the most popular character in the series.
The scans can be seen below and gamers can begin to hope for some news of a localization, though the chances seem to be relatively slim.