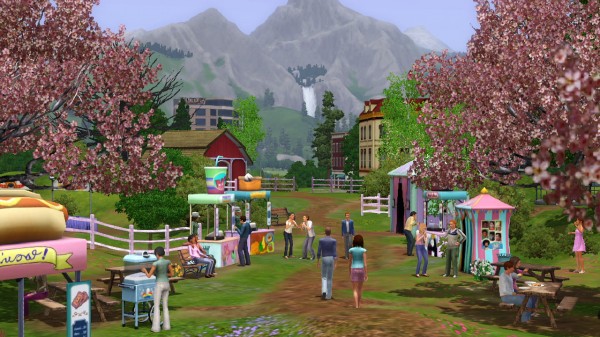 The latest game in the The Sims franchise, The Sims 3, has just had a new expansion pack announced for it. The upcoming expansion pack, Seasons, is one that adds a bunch of seasonal based gameplay elements to The Sims. For example, there are some new elements like seasonal festivals added to the game.
On The Sims 3 Seasons Expansion Pack, the developers had this to say –
"The Sims 3 Seasons offers players not only the opportunity to interact with weather, but also the ability to really get into the mood of each season and tell meaningful stories with their Sims," said Ryan Vaughan, Producer, The Sims. "Since the launch of The Sims 3, Seasons has been one of the most highly-requested themes by our players. The seasonal changes in this game offer incredible realism, simulating nature in a way that is unprecedented for The Sims."
The game adds several new elements to the game, elements such as – Building skills whilst participating in sports, swimming in the previously inaccessible ocean, participating in seasonal events and adding new and unique furnishings for your Sims households. The game will also feature transformative weather effects to better simulate the new seasons.
Players who pre-order** The Sims 3 Seasons Expansion Pack will receive the Limited Edition which includes the exclusive Ice Lounge community lot, a sleek social club that can be placed in any world from The Sims 3 and is available in all seasons. This all-new venue includes 12 brand new objects made entirely of ice that can be used to build out an elegant, icy abode.
Be sure to check out the official site for more info.