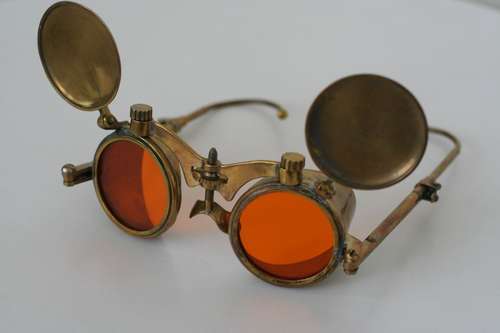 Riding on the back of our last article on Steampunk, we have been in contact with the ladies that ran the Steampunk Panel and have compiled a list of some great places for people to pick up some nice gear for their costumes. What's great about a list like this is that is a really good indicator on where to start to find supplies needed to create an incredible costume. I think that both amateurs and professionals would be interested in these locations.
To quote Mel (One of the hosts at the panel) –
In Sydney:
Army Surplus & Disposals – there are a few of these around and they're great for finding things like pouches, holsters, binoculars, compasses…all kinds of things. They're definitely worth a look.
Reverse Garbage – two in Sydney, both are fantastic. A cheap way to source components for gadgets, but they also occasionally sell things like leather offcuts, foam, fabric samples, paint – everything you could need for a steampunk outfit!
Gallery Serpentine – heaps of clothing in the Victorian fashion, for both men and women. The best place to source a corset in Sydney (you can even request specific materials, or source your own). You can also find a lot of steampunk-esque shoes, gadgets and jewelry there. http://www.galleryserpentine.com.au/
Paddy's Markets – most Sydney-siders are pretty familiar with the markets, but they're a great place to source things like pocket-watches and leather items.
AHW Creations – based down in the Rocks, they make some incredibly detailed jewelry and accessories. http://www.ahwstudio.com/

Online:
Etsy (http://www.etsy.com/) – the online market for homemade crafts, type "steampunk" into etsy and you'll have literally tens of thousands of results. Jewelry, customised goggles, harnesses, clothing, weaponry…absolutely everything.
Steampunk Emporium (http://www.steampunkemporium.com/) – full sections for both men and women, covering everything from clothing to accessories. They're fantastic for inspiration too.
Instructables (http://www.instructables.com/group/steampunk/) – the steampunk group on Instructables – a website known for its multitude of tutorials – has a lot of helpful tricks and hints in creating your own items. If you have a burning need to make goggles that light up or a ray gun of your very own, this place will help.
YouTube (www.youtube.com) – never underestimate the power of youtube tutorials. I learned to weather my accessories from a youtube tutorial, and that's an essential steampunk trick! It's also great for inspiration, as you'll find a lot of completed costumes on there.
I think that even having some kid of list on where to find supplies is a great thing to have. I know that I've frequently gone looking for tutorials on things and they've always had some kind of assumed knowledge component to them where they expect you to know where to find certain things or know how to do something from a level higher than you are. Thanks ladies on getting this list to us.
Be sure to check out the official SMASH! website and our SMASH! 2012 section here on Capsule.

Image featured from – http://www.instructables.com/id/Steampunk-spectacles/