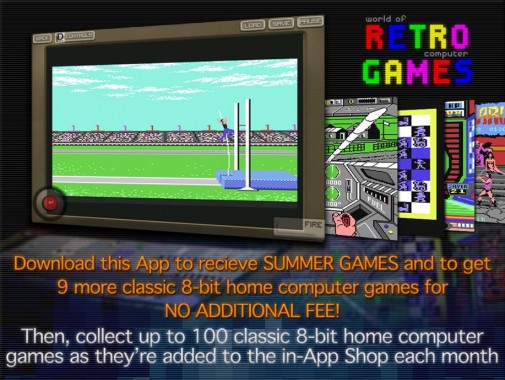 Earlier this year Elite had to remove its Retro Games from the App Store due to some ownership issues of the game Tales of the Unknown. However, you'll be pleased to note that Summer Games, a game that was previously included in Retro Games, will be re-released for the iOS on the 20th of July 2012, one week before the opening of the summer London Olympic Games.
Not only will you get Summer Games when you buy the app, but also another nine 8-bit home computer classic games for FREE. And each month more classic 8-bit games will be added as in-app purchases, going up to 100 games in total.
So what are you waiting for? If you're an 8-bit fan and would like to venture back to a time when games were more charming and not as easy to tell what you are looking at, then make sure to head on over to the App Store and buy Retro Games!
Retro Games will be available on the App Store on July 20, with three different versions. There is Retro Games for the iPhone, Retro Games HD for the iPad, (which will both be $0.99) and Retro Games Free for the iPhone.