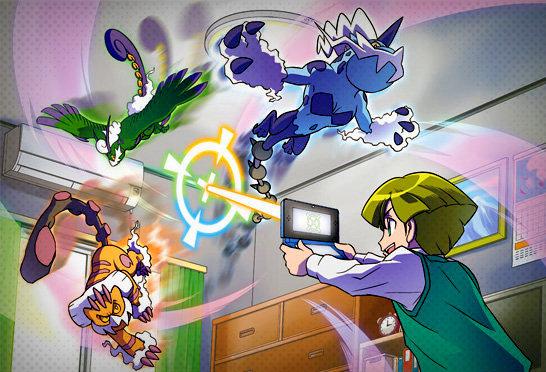 Ready for more Pokemon? Well, Black 2 and White 2 are headed to the DS/3DS in mere months, and Nintendo of Australia have decided to announce that the Dream Radar will be be hitting the eShop on the same day. For those unfamiliar, this paid app lets players have the ability to catch Pokemon such as Eevee, Riolu, Tyranitar, Arcanine and Mareep− right from the start of the game.
If playing on Nintendo 3DS, players can also transfer Pokémon they have caught with the Pokémon Dream Radar game into their Pokémon Black Version 2 and Pokémon White Version 2 games. The Pokémon Dream Radar game lets players use several different features of the Nintendo 3DS system, including the Nintendo 3DS camera, motion control and augmented-reality technology, to discover and catch Pokémon, many with special hidden abilities. Players can also catch hard-to-find Pokémon such as the new Therian Formes of Legendary Pokémon Tornadus, Thundurus, and Landorus.
Yes, this is an upgraded Pokewalker of sorts, and a nice incentive for fans to snag up a 3DS if they have been holding out. The upgraded Pokedex 3D will also be releasing, but won't hit the region until Spring.