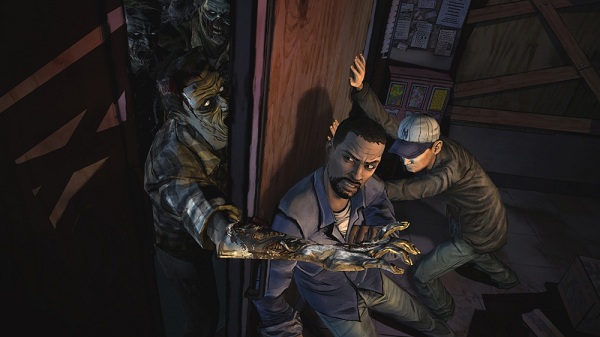 Welcome back for this week's iOS Game Suggestions. If you missed or are new to the suggestions, click on the link below and check what cool games you should be picking up for your iOS along with the introduction and disclaimer on how the suggestions work. (suggestions 1 has the disclaimer and how it all works)
MasterAbbott's iOS Game Suggestions
A great week on iTunes, as always it started slow and but ended with a bang! Asalways there certainly is a few must buy games this week in all departments, FREE, 99c and over 99c. This week i've suggested a total of 22 great quality titles. Make sure you check them all especially Mushroom Garden Deluxe, Minimon Online, ORC: Vengeance, Total Recall, MANOS – The Hands Of Fate and my pick of the week The Walking Dead. 
Break down below :
7 – FREE Games
7 – $0.99c Games
8 – Over $0.99c Games
As always for this week's suggestions are all new titles that you should take a look at and consider spending your hard earned iTunes cash / time on.  Well the Free games just below should all be given a shot as they are FREE!
For The Cheapskates – FREE GAMES
Mushroom Garden Deluxe – Price : FREE – Publisher – Beeworks Games (Mushroom Garden is the world's first genuine mushroom-growing sim!
The first app was released in 2011 as a spin-off app of "Touch Detective".
Cultivate Funghi and harvest by swipe, it is the simple app.) on iPad & iPhone. GET IT NOW FOR FREE

 

Jump Out! HD – Price : FREE – Publisher – Big Fish Games (Get your feelers up and six little legs ready for some acrobatic action! Help the cute critters escape certain doom as they leap and scurry into little crevices. Meet garden dwellers like the snail, cricket, and beetle who each have their own special abilities to get them through the courses. They spin, they scatter, they pounce, and so much more! In need of your human help, these creepy crawlers will melt your heart and turn out to be not so creepy after all. Save each one now! ) on iPad & iPhone. GET IT NOW FOR FREE

 
Ben 10 Ultimate Alien: Xenodrome – Price : FREE – Publisher –

TurnOut Ventures 

 (Transform, battle and level up in BEN 10 Ultimate Alien: Xenodrome! Play as Ben Tennyson and unlock his alien powers as he takes on the evils of the galaxy. Enjoy solo story mode or battle against other players! BEN10 Ultimate Alien: Xenodrome is an all-new free game where you unleash your favorite aliens from the BEN10 Ultimate Alien TV series. As Ben Tennyson you must use the skills of various alien forms to stop Aggregor and other villains across the galaxy.

) runs on iPad & iPhone.

GET IT NOW FOR FREE

 
ParaNormal: 2-BIT BUB – Price : FREE – Publisher –

Laika

 (THE OFFICIAL MOBILE GAME FOR PARANORMAN, the animated zombie comedy in theaters August 17! 2-BIT BUB is an adorably odd action-puzzler featuring mobile gaming's weirdest new hero, Bub, a ghost-dog in two bits. Slingshot Bub's ectoplasmically conjoined body through stunning visuals pulled straight from the movie!

) runs on iPad & iPhone.

GET IT NOW FOR FREE

 

Bubble Witch Saga – Price : FREE – Publisher – King.com Limited (The Witches need your help to fend off the dark spirits that are plaguing the country. Travel the realm and win each potion challenge to free the land piece by piece. Take on this epic saga alone or play with friends to see who can get the highest score!) on iPhone & iPad. GET IT NOW FOR FREE

 
AVABEL ONLINE – Price : FREE – Publisher –

Asobimo

 (AVABEL Online is an action RPG / MMO similar to in style of RIFT and Worlds Of Warcraft, with a fluid and easy to use and very intuitive control system, you can jump into the action down down your enemies in no time.  AVABEL boasts an amazing 3D environment with a large number of unique and original enemies.  Join the online battle now and save AVABEL!

) runs on iPad & iPhone.

GET IT NOW FOR FREE

 
Epic Raiders – Price : FREE – Publisher –

Gamevil

 (Battle monsters and warlords in Epic Raiders as your cast of characters work to rescue the princess! Players expand their party and target enemies to initiate an onslaught of attacks. Customize your characters in a wide variety of beautiful costumes, armor and weapons as you skill build and level up. Featuring an endless array of stages in crisp HD display, Epic Raiders will have you hooked!

) runs on iPad & iPhone.

GET IT NOW FOR FREE
For The Bargain Hunters – 99c Games
 

Worm vs Birds – Price : $0.99 – Publisher – Chillingo (It's time for payback! You play a lone worm sharpshooter intent on getting his own back on all those early birds that catch your buddies. Fire worms, each armed with a special ball and knock the feathers clean off the birds. Judge your angles just right if you want to get every bird in one and grab the high score!) runs on iPhone & iPad. BUY NOW

 

Wrestling Revolution – Price : $0.99 – Publisher – MDickie (Tap, pinch, and swipe your way to victory in this revolutionary touch-screen wrestling game! Every step taken, every punch thrown, and every move executed is now more satisfying than ever thanks to the intuitive control system. And with up to 10 characters on screen and dozens of fully interactive items and weapons, it's the wildest action your mobile device can handle!) runs on iPad & iPhone. BUY NOW

 

About To Blow Up Part 1 – Price : $0.99 – Publisher – Facepuncher Worldwide ('Small Time Records' is in BIG TIME trouble! Mr. Sleez, the unbelievably evil hip-hop music manager, has threatened to eliminate the only remaining independent record company in town. 'About to BLOW UP' is a hilariously insane hip-hop cartoon adventure jam-packed with crazy characters and mind melting puzzles!) runs on iPhone & iPad. BUY NOW

 

Flick Champions World Edition – Price : $0.99 – Publisher – Chillingo (The Flick Champions are taking on the World! Get in the sporting mood this summer with Flick Champions World Edition. Featuring eight classic tests of human endurance including, Running, the Hammer Throw, Javelin, kayaking and more! Put your fingers to the test in this dose of addictive sporting fun! Prove you are the champion once again!) runs on iPhone & iPad. BUY NOW

 
Magic Wingdom Deluxe – Price : $0.99 – Publisher –

PlayCreek

 (A unique combination of Action and Puzzle, Magic Wingdom is carefully crafted to win over your heart and become your next gaming obsession! Make incredible combos, sort out desperate collisions, make the most out of amazing powerups and master this little gem of a game! Be rewarded for your gaming skills! Earn coins, rubies and emeralds, gain experience points, complete quests, unlock achievements, and … And even take care of your own Magic Bird Farm with 4 yards to unlock, 20 adorable birds to raise and countless decorations, plants, toys and comfort items for your pets! ) runs on iPhone & iPad.

BUY NOW

 

Minimon Online – Price : $0.99 – Publisher – Sergio Flores (Enter the world of Minimon! Capture and raise your own monster team! Meet other players in a online world! Challenge all arena leaders and collect badges! Pitch your team against other players! Find secret areas with rare monsters! And much more!) runs on iPhone & iPad. BUY NOW 

 
A Squirrel Story Premium  – Price : $0.99 – Publisher –

Avko Labs

 (One funny pretty squirrel wants to find treasure, and at first she needs a map. Her friend, sweet wood goblin helps her and gives for some delicious things (apples, mushrooms, nuts) one piece of map after each level, but first she has to collect this things and reach barrel, where he hides. So, she jumps, jumps and jumps, collects tasty gifts for her friend, diamonds and jumps again. But she needs to be careful, because there are some obstacles in the air, don't let our marvelous squirrel die! For coins and diamonds squirrel can buy clothes and other upgrades.) runs on iPhone & iPad.

BUY NOW
For The Millionaires – All games over $0.99
 

MasterAbbott's over 99c Pick Of The Week!

Walking Dead: The Game – Price : $5.49  – Publisher – Telltale Inc (The Walking Dead is a five-part episodic game series set in the same universe as Robert Kirkman's award-winning comic books featuring Deputy Sheriff Rick Grimes. This is not another shoot 'em up; it's a game that explores some very dark psychological places, revealing that the undead are not the only thing to be afraid of when society crumbles.) runs on iPhone & iPad. BUY NOW

 
ORC: Vengeance – Price : $2.99 – Publisher –

Chillingo

 (Play as Rok, the Orc Warchief on a quest for vengeance in this incredible RPG adventure. With groundbreaking visuals, intense combat, dynamic controls, epic boss battles and a deep, narrative-driven campaign, ORC: Vengeance is the most complete RPG available on the App Store. The Dark Lord has risen and has enslaved your Orc brethren, it's up to you to defeat him, and his legion of followers, and restore the balance to Argon.

) runs on iPad.

BUY NOW

 
Total Recall Game – Price : $1.99 – Publisher –

Jump Games Pvt

 (Plunge into fast-paced, First Person Shooter action that follows the same mind-bending storyline as the new Sony Pictures' sci-fi thriller. It is the year 2084, and you suddenly find yourself on the run from mysterious assailants after a trip to the memory implant center Rekall goes horribly wrong. The Fate of the World hangs in the balance, as the line between Fantasy and Reality dissolves into a Paranoid Dream.) runs iPad & iPhone. BUY NOW
 

10000000 – Price : $1.99  – Publisher – EightyEight Games LTD (10000000 is a Dungeon Crawling RPG Matching Game. Run the dungeon and match to handle the things you encounter. Upgrade your castle, improve your gear, train skills and brew potions. Can you score 10000000 and earn your freedom? Kill monsters and find loot. Improve your gear and train skills. Find wood and stone to improve your castle) runs on iPhone & iPad. BUY NOW

 

Age Of Oblivion – Price : $2.99  – Publisher – RhinoGearz. (Do other sentient lifeforms exist in the universe or are we the only ones? Most people believe that they do exist, yet some are skeptical. There is a story that has been passed down through generations. A group of alien beings known as Venusians invaded Earth and attempted to conquer it, but were outnumbered by humans and defeated. They left behind a device that is rumored to be a super weapon capable of mass destruction. Even then some people still refuse to believe that the super weapon is alien technology.) runs on iPhone & iPad. BUY NOW

 
Spy vs Spy – Price : $1.99 – Publisher –

Robots and Pencils Inc

 (SPY vs SPY is based on the original, multi-million unit selling, break out hit on the Commodore 64; Apple // series; and Atari 400/800 computers by First Star Software, Inc. It features online and local multiplayer matches, 16 new embassies (plus the original 8), and a pixel perfect retro mode as well as a modern mode, both with the famous black and white spies from MAD Magazine. 

) runs on iPhone & iPad.

BUY NOW

 
MANOS – The Hand Of Fate – Price : $1.99 – Publisher –

FreakZone

 (WARNING: This is REAL retro gaming! Be prepared for vast, unique levels with challenging boss battles! MANOS is an homage to the great games you remember from your childhood! Remember how every film and cartoon had it's own platform game adaptation? When every man, woman, child, animal and inanimate object were out to get your character? When the streets were filled with bats, ghosts and Frankenstein monsters? MANOS will take you back to the fantastically absurd games of the past!) runs iPad & iPhone. BUY NOW
 

BLAZING STAR – Price : $2.99  – Publisher – SNK PLAYMORE ("BLAZING STAR", legendary NEOGEO shooting game with its unique game system and its gorgeous graphics, lands on iPhone/iPod touch!
"BLAZING STAR" features integre a multitude of exciting options such as a "point scaling system" for insane scores! Shoot down your enemies with your powerful options and weapons!) runs on iPhone & iPad. BUY NOW
There you have it folks, these games should keep you busy for quite some time, well till next week at least. I'll be back next week for another dose of iOS goodness, in the meantime if anyone would also like to suggest their own suggestions, please feel free to share them in the comments section below or in the iOS forum section on the site here.
Remember kids, Play Hard Or Don't Play At All!