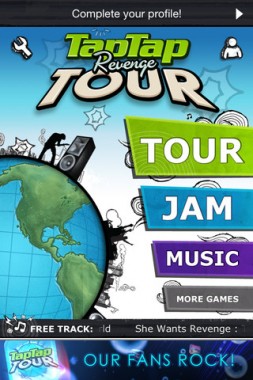 Disney Mobile Games have announced the launch for Tap Tap Revenge: Tour, the newest version of that Guitar Hero-esque, addictive music app, Tap Tap Revenge. Tap Tap Revenge: Tour will have the game's biggest catalogue of songs available at launch, and will be giving a free track away daily for the first time.
In addition, Tap Tap Revenge: Tour will also feature a completely redone user interface that simplifies and streamlines the whole experience. In terms of gameplay it allows you to slice through special tappers, use multidirectional shake capabilities, or use enhanced visual themes.
Also, as the title suggests, there is also a new gameplay mode called 'Tour', where the player can be a concert promoter, tour manager and rock star. While on Tour players can play an Opening, Supporting and Headliner Act in a new city every day, unlock encore acts to earn bonus points and gain weekly rewards. You can also win memorabilia and merchandise to show off on your 'Tour' wall, which can be personalized and shared on Facebook.
The free hit songs available at launch will be ones from such hit artists as LMFAO, AVICI and Selena Gomez, as well as featured artists Gotye, Carly Rae Jephsen and Kaskate (feat. Neon Trees). There is also a rotating free music store of over 300 trakcs, as well as 17 bundles of new premium content available for purchase.
Senior Vice President and General Manager of Disney Mobile Games, Bart Decrem, had this to say about Tap Tap Revenge: Tour
"Tap Tap Revenge: Tour represents an important evolution for the Tap Tap franchise. The game has been completely streamlined and focused on getting players into a more immersive and fun music gaming experience. Tap Tap Revenge: Tour gives users more new music than they can tap their fingers at, as well as a new "Tour" challenge that will have players coming back daily, sharing their progress with friends, and feeling a greater sense of accomplishment."
Tap Tap Revenge: Tour is available NOW for FREE for the iPhone, iTouch and iPad HERE.