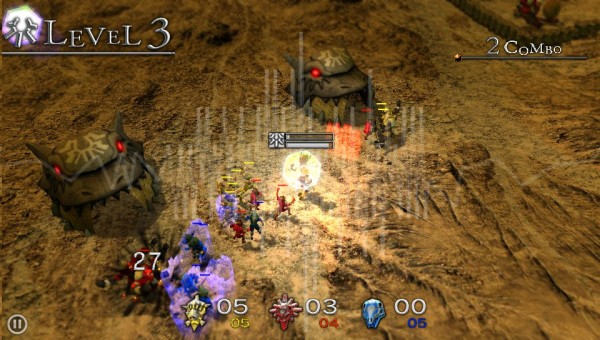 XSEED Games has released more screenshots of the upcoming PS Vita title Orgarhythm, which combines the RTS and music rhythm genres.  The screenshots can be seen in the gallery below, so players can see more of the gameplay before it's release.
Orgarhythm tells the story of two sibling gods, who inhabit the same planet, but where one creates minions to devour power the other creates minions to develop it.  When the two sides finally clash it is up to the player as the younger creative God of Light to stop the older destructive God of Darkness.
The game will feature more than just rhythm based strategy as it will also remember how levels were played through, impacting recursive plays.  Orgarhythm will have not only a completely original soundtrack, but indie musicians can send in music to the developer to be added as DLC.  Finally, the game will have multiplayer, so that players can go at it with a friend cooperatively or against them in a versus between the God of Light and the God of Darkness.
Orgarhythm is set to release Summer 2012 for the PS Vita.