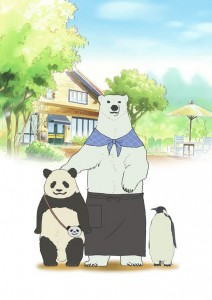 Aloha Higa, the creator of popular manga series Polar Bear Cafe has revealed through her twitter that she has in fact placed her manga, which is serialized in Shogakukan Flowers Magazine, on indefinite hiatus due to a dispute with Studio Pierrot regarding the Polar Bear Cafe anime adaptation.
As it turns out Studio Pierrot had not signed Higa's contract for the adaptation and went and put the series into production without consent of Higa, who had yet to come to an agreement for the terms of her contract. She claims to have not received a single yen for the adaptation and has not been given any say in the direction of the anime.
After six months of being unable to have her voice heard by Studio Pierrot she placed her manga on indefinite hiatus, much to the behest of Shogakukan, which resulted in Pierrot finally buckling and signing her contract as well as remunerating her for the money she rightfully is entitled to for this adaptation.
Higa has gone on to say that the editorial department at Shogakukan has expressed deep regret for this situation and has apologised for not resolving this contract dispute with Studio Pierrot earlier. She is now working closely alongside Studio Pierrot on the adaptation and the Polar Bear Cafe manga will remain on hiatus until she is done consulting for the anime series.
What do you think about this disappointing behaviour from Studio Pierrot? Let us know in the comments section below.
Source: Yaoran!