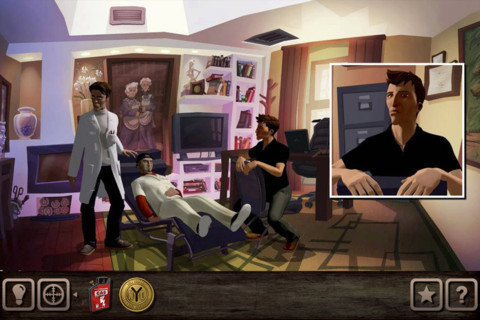 Welcome back for this week's iOS Game Suggestions. If you missed or are new to the suggestions, click on the link below and check what cool games you should be picking up for your iOS along with the introduction and disclaimer on how the suggestions work. (suggestions 1 has the disclaimer and how it all works)
MasterAbbott's iOS Game Suggestions
A pretty good week on iTunes, as always it started slow but ended up quite reasonably, certainly a few must buy game this week in both the FREE  & over 99c department. This week i've suggested a total of 24 great quality titles. Break down below :
11 – FREE Games
6 – $0.99c Games
7 – Over $0.99c Games
As always for this week's suggestions are all new titles that you should take a look at and consider spending your hard earned iTunes cash / time on.  Well the Free games just below should all be given a shot as they are FREE!
NOTE MasterAbbott's iOS Suggestion's will be going on leave for the next 2 weeks because of E3 coverage.
For The Cheapskates – FREE GAMES
 

MasterAbbott's FREE GAME PICK OF THE WEEK!

Soccer Superstars 2012 – Price : FREE – Publisher – Gamevil (Do you have what it takes to be the Soccer Superstar? Play Soccer Superstars 2012, the most immersive and dynamic soccer game on smartphones. Train your player and team with endless skill building and leveling options. Unlock special players and dominate the stadium against impressive AI or others players across the world. Soccer Superstars 2012 brings intensive team management and soccer game play to your device for endless hours of soccer fun.) on iPad & iPhone. GET IT NOW FOR FREE

 

Shrek's Fairytale Kingdom – Price : FREE – Publisher – Beeline Interactive (ONCE UPON A TIME, there was an ogre named SHREK… Experience the twisted fairy tale of everyone's favorite ogre in an all new way. Become part of the story! Earn the friendship of the solitude seeking Shrek as he outfits his beloved Swamp with all manner of ogre-ly comforts, including slug-laden logs, mud baths and an outhouse guaranteed to make any ogre green–er with envy. When the Fairytale Creatures of Far Far Away invade his peaceful Swamp, Shrek's simple desire to reclaim his home begins the epic journey across the Kingdom, facing adventure, hilarious encounters, and eventually… True Love.) on iPad & iPhone. GET IT NOW FOR FREE

 
MILQ – The Quest – Price : FREE – Publisher –

Earl Gray Entertainment

(Meet the Kindians and join their ultimate search for the perfect snack. After creating the coveted kookie, the Kindians inevitably launched the Massive Intergalactic Leche Quest (MILQ) in search of the holy and mystical substance called milk. The ancient texts lead them straight to planet Earth. Now it's up to the alien hero, Klim, to make their dreams come true. But there's only one problem, the cows won't cooperate. Will you help the Kindians abduct the cows achieve their goals? Will the cows win their fight for freedom? Will you download this app? Let's find out!

) runs on iPad & iPhone.

GET IT NOW FOR FREE

Min – A Space Adventure – Price : FREE – Publisher –

Cwerki Studios

 (Min, is a planet, a very small planet, ruled by a people, a very small people known as the Minimar. For centuries the Minimar were divided and warred among themselves much like we do, but one day, as their world's top scientists discovered ways to tap into their planet's core and harvest its energy, the Minimar united, constructed a huge rocket attached to their core that they dubbed the core-cannon and united to take on a new endeavor, space exploration!

) runs on iPad & iPhone.

GET IT NOW FOR FREE

 

James Noir's Hollywood Crimes – Price : FREE – Publisher – UBISOFT (James Noir's Hollywood Crimes for iPhone, iPad and iPod Touch is a mind-bending puzzle adventure in an interactive 3D world! Experience the thrill of uncovering a deadly mystery as you solve over 150 tailor-made mind games. Hollywood, 1961.
As an expert in puzzles and riddles, you have been selected to participate in a famous TV game show. But the set of the show is in danger: as you play, you discover a series of murders targeting former candidates. The FBI needs your talent to solve the puzzles left by the killer and track him down… but be sure to find him before he finds you!) on iPhone & iPad. GET IT NOW FOR FREE 

 
Dice Soccer – Price : FREE – Publisher –

6Waves Lolapps

(Are you ready to roll for GOAL? Then grab your team and get on the field 'cos this is surely the soccer showdown of the century. Only this time, we're duking it out with Dice! So grab your strikers and goalies, roll their dice and watch out for some crazy action as they combine, powerup and show-off their awesome abilities on the way to scoring stellar goals.

) runs on iPad & iPhone.

GET IT NOW FOR FREE

 
Marine Zoo – Price : FREE – Publisher –

althi Inc

(Make a wonderful aqua paradise in the blue sea! This is a magical zoo for fishes, "Marine Zoo". In Marine Zoo, there are so many types of fishes enjoy swimming. Make your original and unique marine entertainment park
and show your wonderful park to your friends!! Why don't you start keeping cute fishes in Marine Zoo?
Feed them, see their growth and fill your park with many fishes!

) runs on iPad & iPhone.

GET IT NOW FOR FREE

 
Elphis Adventure – Price : FREE – Publisher –

Com2us

(Colorful time-twisting casual RPG, Elphis Adventure! Enjoy the full story for FREE~ Red Riding Hood + Jeanne d'Arc + Liu Bei = Elphis?! Crazy yet intriguing! Scenario definitely differentiated from other time-traveling stories.
Roam inside fairytales, historical times, and other fantasy periods in Com2uS' casual RPG "Elphis Adventure"!!
Lalala~ Another peaceful day for Red Riding Hood, and her Granny tells her to bring back some apples.
But when she came back home…. Granny's gone?!?! Search for Granny by traveling through time, and find out who or what took her away! 

) runs on iPad & iPhone.

GET IT NOW FOR FREE

 
The Pilgrim's Codex – Price : FREE – Publisher –

Universidad Francisco de Vitoria

("The Pilgrim's Codex" is a passionate 3D graphic adventure in which you will accompany Norberto de Bricasard on the search for his destiny through the Road to Santiago. As a medieval pilgrim, you will travel through real landscapes of the Jacobean Route and you will have to overcome the difficulties that arise on the journey. Awaiting you are magnificent characters, dark forces, thousand-year-old legends, trials and challenges to rise above until you reach your destination: the Cathedral of Santiago de Compostela. Ultreia!! Travel well!!

) runs on iPad & iPhone.

GET IT NOW FOR FREE

 

Toon Shooters – Price : FREE – Publisher – Mooff Games (In a faraway place a long time ago, the Galactic Fleet threaten to eat the galaxy and Earth is the next target. Only one hope remains – the TOON SHOOTERS, a mischievous band of freelancers and rebel cartoon characters – each with their own amazing super powers and stories. Defend earth over land, sea and air – and then goto alien worlds and beyond. Kick the Fleet back to wherever they came from, so that everyone can have some peace and quiet once again.) runs on iPad & iPhone. GET IT NOW FOR FREE

 

Rock All Zombies – Price : FREE – Publisher – IBA Games (A story where music decides everything.
Imagine that you and your band are in the garage playing your favorite music before a concert, where glory and general acclaim await you. But then – the lights go out. The city is plunged into darkness, and the screams and growls of the undead sound all around you. Your dreams of a better life dwindle with every passing minute. What will you do? Will you let the monsters steal your future or will you fight for what's right…and do it
Hordes of zombies and a multitude of unique monsters will rise up to fight you on your path. Will they be able to resist the power of Rock? The power of your music?) runs on iPad & iPhone. GET IT NOW FOR FREE
For The Bargain Hunters – 99c Games
 

Centipede Origins – Price : $0.99 – Publisher – ATARI (Inspired by the Atari classic, Centipede: Origins brings an entirely new level of bug-blasting fun to the world-renowned franchise.Evil, plant-munching vermin are swarming into your precious garden and rapidly destroying everything! You, a peace-loving gnome, have no choice than to wage an all-out war against these vile creepy crawlies.Using extreme weapons and gadgets, protect your garden from the ambush of vicious bugs and the dreaded CENTIPEDE.Who will survive: GNOMES or BUGS?! YOU DECIDE!) runs on iPad & iPhone. BUY NOW 

 
Asphalt 7: Heat – Price : $0.99 – Publisher –

Gameloft

 (The completely revamped multiplayer lets you take on up to 5 of your friends locally or online. Keep track of who's the best with the new Asphalt Tracker that lets you compare stats, show off achievements and challenge rivals. You can also find new online opponents with the matchmaking system. Practice haHit the speed of heat in the newest, fastest, most visually stunning edition of the famed Asphalt series.) runs on iPhone & iPad.

BUY NOW



InnKeeper HD – Price : $0.99 – Publisher –

Monkey Eater

(The island of Siquijor in Philippines is a beautiful place with pristine forests and wonderful beaches. However, rumors of monstrous beings called Aswangs prevent it from ever being popular. Your dream is to build an Inn in this place and make it popular for both local and international tourists while also unraveling the mystery behind the Aswang folklore.) runs on iPhone & iPad.

BUY NOW

 
Bravo Jump – Price : $0.99 – Publisher –

Sudo Game

 (Jumping! Jumping! Brave jump! Merciless ridicule those ruffian who are bullying the vulnerable children. Be careful not to be stumbled by the rope, they're cunning. You have only 3 chances, otherwise the challenge will end. Tap longer, jump higher.) runs on iPhone & iPad.

BUY NOW

 
The Secret Of Arcanesium – Price : $0.99 – Publisher –

Playtinum

 (It all started when I received the message from Professor Baumgartner. I was excited to know that Arcanesium was now a reality but. The professor had disappeared and he didn't want me to contact him!!! Ominous thoughts raced through my mind. Was the professor in some kind of danger? I had to find out…
…But first I had to get to the professor's lab. Enjoy the first episode of this entertaining point and click adventure to embark upon a journey to discover the 'Secret of Arcanesium') runs on iPhone & iPad.

BUY NOW

 
Fish Heroes – Price : $0.99 – Publisher –

Craneballs Studios

 (Below the ocean's surface, a gang of vicious sharks is ready to attack you, but the Fish Heroes are prepared to save the day. Each Hero has its own unique ability. There's the tough-guy Piranha from South America's waters with accelerating powers, the inflating Puffer with sumo-style techniques, the inky and intoxicating Octopus and many more. These heroic fish accompany you through an undersea adventure to bring an end to the Shark Mafia.) runs on iPhone & iPad.

BUY NOW
For The Millionaires – All games over $0.99
 

MASTERABBOTT'S OVER 99c PICK OF THE WEEK

Yesterday – Price : $1.99 – Publisher – BulkyPix. (The first thriller by the indie studio that created the million-selling RUNAWAY saga! A psycho is killing beggars alive in New York. A Y-shaped scar forms in the hands of seemingly unrelated people. The press and the media just don't care, so Henry White, a young NGO volunteer, will be the first to investigate the crimes with his friend Cooper. They are two of the three playable characters in Yesterday, the third being none other than the enigmatic John Yesterday, who is dragged into this twisted plot after his memory is completely wiped. How far will you go to find out who John Yesterday is?) runs on iPhone & iPad. BUY NOW

Campaign The Game – Price : $1.99 – Publisher –

Insolita Studios

 (Did you ever think of creating an ad campaign with Sensitive Pirates? What about a TV commercial with Profound Zombies? or a web piece on Serious Spring Break? Then Campaign is for you! Get creative and make advertising history by leading a dynamic and spontaneous ad agency from the 80s to the 00s, all the way to the top! Create ad campaigns, work with pop and advertising superstars, win festivals and throw parties on your way to success. All that while dealing with loveable and smart (yeah, right) clients that just want you for your numbers! Unite your left and right brain in a glorious explosion of screen touching magic, or in other words: get creative and win the game!

) runs on iPhone & iPad.

BUY NOW

 
Tour de France 2012 – Price : $5.49 – Publisher –

Extra Live

 (The OFFICIAL GAME of TOUR de FRANCE 2012!
Designed for you, the fans and players. The YELLOW JERSEY can be yours! A RACING GAME faithful to the Tour de France, also featuring aspects of a STRATEGY and MANAGEMENT GAME. Every detail has been engineered for your fun: breakaways, climbs, managing the peloton, accidents, eating, drops in power, and many more! Take control of a team of riders and choose the correct racing strategy, the best tactics, and then set off to win the YELLOW JERSEY like Cadel EVANS!.

) runs on iPhone & iPad.

BUY NOW

 
The Act – Price : $5.49 – Publisher –

Chillingo

 (Introducing The Act – an exciting new interactive comedy that makes gaming feel like playing a classically-animated movie. Take control of Edgar, a humble window washer, and help him on his quest to save his job, rescue his brother, and woo the woman of his dreams!
In The Act, you control both Edgar's actions and emotions. Swiping left or right with your finger will cause Edgar to react in different ways, and engage with other characters. Be careful, though, swipe too far and Edgar may get over-confident and things can get out of hand!) runs iPad & iPhone. BUY NOW
 

Traffic Panic London – Price : $1.99  – Publisher – Neon Play. (Will you control Traffic or cause Panic?! The most chaotic traffic management game on the App Store comes to London! Join over 4 MILLION fans who have played the Traffic Panic series! Tap to change the lights and get points for safely crossing the traffic. If you cause an accident prepare for more points and an explosive cinematic visual feast!) runs on iPhone & iPad. BUY NOW

 
Strike Soccer Euro 2012 – Price : $7.49 – Publisher –

U-Play Online

. (The first unofficial football simulator for Euro 2012! After the success with Striker Soccer we launch the first football game with 3D simulator for European Cup 2012. Pick your favorite European national team from among the 16 strong nations competing for the ultimate European soccer glory, the Euro Cup 2012 and play to be crowned the champion! Prove you are the best commanding your players on the pitch!

) runs on iPad & iPhone.

BUY NOW
 
RayStorm – Price : $9.49 – Publisher –

TAITO CORP

 (RAYSTORM, the second installment in TAITO's classic RAY series of arcade shooting games, locks on to iPhone!
TAITO is famous for arcade shooting games, and the RAY trilogy is one of its most beloved series! Beloved for its beautiful 3D graphics and exhilarating pace, the series' second installment (following RAYFORCE) is now available in app form!

) runs on iPad & iPhone.

BUY NOW
There you have it folks, these games should keep you busy for quite some time, well till next week at least. I'll be back next week for another dose of iOS goodness, in the meantime if anyone would also like to suggest their own suggestions, please feel free to share them in the comments section below.
Remember kids,
Play Hard Or Don't Play At All!