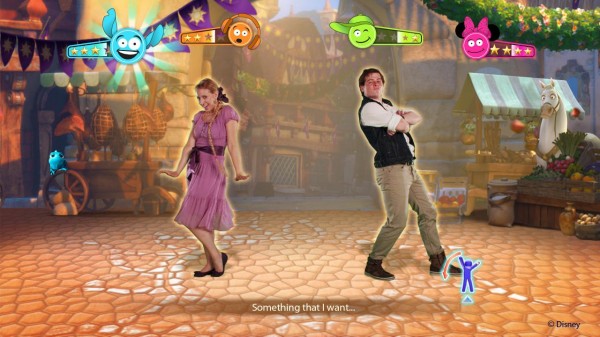 Infect with those hot Disney beats of course. Everybody loves Disney, and a good portion of those Disney lovers love to dance as well, which makes Ubisoft's newly announced Just Dance: Disney Party a perfect addition to the growing genre.
I don't think I have to explain how Just Dance works, as…well…you just dance, but this time around, Disney will be in the mix and you can expect the whole game to be A Whole New World…for gamers.
Feast your cartoon eyes on the tracklist, which is made up from classics such as Under The Sea, to the more modern tunes of those kooky Wizards from Waverly Place:
Disney Classics
· "The AristoCats" ( "Ev'rybody Wants to Be a Cat")
· "Beauty and the Beast" ("Be Our Guest")
· "Bolt" ("I Thought I Lost You")
· "Cinderella" ("Bibbidi-Bobbidi–Boo")
· "Enchanted" ("That's How You Know")
· "The Jungle Book" ("The Bare Necessities")
· "Lilo & Stitch" ("Hawaiian Roller Coaster Ride")
· "The Little Mermaid" ("Under the Sea")
· "Mary Poppins" ("Supercalifragilisticexpialidocious")
· "Peter Pan" ("Following the Leader")
· "Tangled" ("Something That I Want")
· "Tangled" ("I've Got a Dream")
· "The Muppets" ("The Muppet Show Theme")
· "Tinker Bell," "Fly to Your Heart"
Disney Channel Original Series and Movies
· "A.N.T. Farm" ("Calling All the Monsters")
· "Camp Rock" ("This Is Me")
· "Good Luck Charlie" ("Hang In There Baby")
· "Hannah Montana" ("Hoedown Throwdown")
· "High School Musical" ("We're All In This Together")
· "Jessie" ("Jessie Theme Song")
· "Phineas and Ferb" ("S.I.M.P." "Squirrels In My Pants")
· "Shake It Up" ("Shake It Up")
· "Shake It Up" ("Twist My Hips")
· "Wizards of Waverly Place" ("Everything Is Not As It Seems")
A Disney Parks iconic song ("It's a Small World")

"'Just Dance: Disney Party' allows families to have an authentic Disney experience through dance right in their own living rooms," said Geoffroy Sardin, chief Europe, Middle East & Asia sales and marketing officer at Ubisoft. "We're proud to be collaborating with Disney at a time when the Just Dance franchise is growing and evolving to reach new fans."
Indeed it is Geoffroy. I do wonder why Lion King isn't listed, as I think everyone would rather shimmie on down to the sweet sounds of Simba, rather than try to shake their mouse ears to Bolt, but this will do I'm sure for that modern Disney dancer that all of us have deep within ourselves. Look for this title later this year for the Kinect and Nintendo Wii and be sure to complete The Circle of Life in dance form by making Just Dance: Disney Party a Part of Your World.