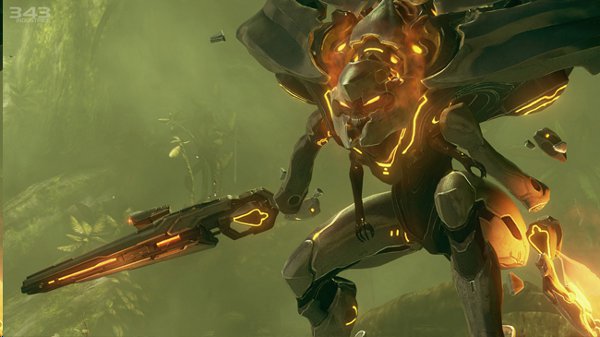 From the Xbox Press Conference, Halo 4 kicked off the the show with a live action trailer showing off and centering around the UNSC Infinity that seems to be prompting as a major set piece for the game.  When they finally get done to the ground with Master Chief, it's back to the basics of the Halo series, trekking through a jungle and fighting off enemies.
This is the finally official introduction of the new enemies that Master Chief will be encountering in this new installment.  These new enemies are AI/robotic based implying that while there may not be as many Forerunners as people have been hoping for, but they are certainly more varied than the sentinels of games past.  But, they seem to be very close to how the Flood worked in Halo 3, except machine based.
New Forerunner weapons were debuted too.  Which are really almost laser based versions of human weapons, such as the Scattershot which would seem to be a Laser Shotgun.  Overall, they are new and seem to bring a new kind of combat, though still very Flood-like in my opinion.  The Halo 4 trailer ended with Master Chief chatting it up with a big ball, that may be the introduction of an actual Forerunner for him to fight.