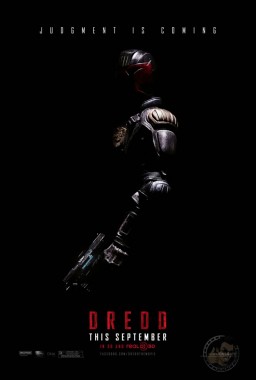 Prepare to get Judged!
The first poster has been revealed on Joblo.com along side some screen shots of the upcoming comic book adapation of 2000AD character Judge Dredd. This film is unreleated to the 1995 version starring Sylvester Stallone, this one stars Karl Urban as Judge Dredd and Olivia Thirlby as Judge Anderson. It's R-rated and scripted by Alex Garland – the guy who write 28 Days Laters so you know this is going to be epic!
The film takes place in a dystopia known as Mega City One, where police have the authority to acts as judge, jury and executioner. These street judges must take down a gang who's dealing a reality altering drug called SLO-MO, so you know that means – awesome HD slow motion beat downs!
Dredd hits Mega City One again in 3D and 2D theaters on September 21, 2012.