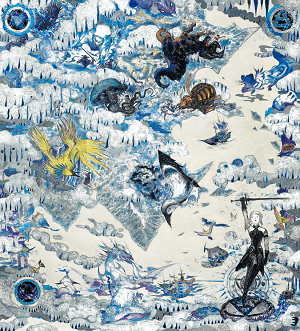 This past weekend Square Enix held the Vana'Diel Festival to celebrate the 10th anniversary of Final Fantasy XI. Square Enix CEO Yuichi Wada announced that Final Fantasy XI has become the most profitable Final Fantasy game of all time. Wada also announced that 200 billion years have been played.
On The Second day of the festival Takashi Izumi Ito, Mr. Yoji Fujito, Mr. Seed, Saito and Masaru Taniguch came out and revealed that Final Fantasy XI would be getting it's 5th expansion pack, Seekers of Adoulin, which is set to be released sometime in 2013.
The Seekers of Adoulin will include two new classes the Geomancer, and the Rune Fencer. Bring the total number of classes to 22. There will also be 3 new areas to explore. The Seekers of Adoulin will be available for PC, and Xbox 360. What do you think of Final Fantasy XI getting another expansion?